Sales Disruptors: The Art of Generating Early Sales
Whitney Sales, the creator of The Sales Method and General Partner at Acceleprise, broke into the world of venture capital by chance. After working in sales for companies over the years, Sales discovered her true passion lay in working with founders.
Before long, her engagement led her to Acceleprise, where Sales became an early partner. Early-stage sales engagement within new companies is Sales' specialty.
"The process of selling really is a science at this point," Sales said. "And there are playbooks you can apply. So, a lot of what you're doing as a founder is applying the knowledge that you have gained in developing the product in your customer discovery with your beta users and your customer development, etc. and utilizing that knowledge to figure out the path forward to close a deal."
Setting up the right sales organization and structure is critical, but Sales cautioned not to overcomplicate the process. Sales recommended companies follow one of several standard compensation plans available.
"When you are working with the salesperson setting this up, make sure to set expectations that this is going to change, and it's going to change frequently, and we're going to be working on this together," Sales said. "And, any time you make a change, I am going to explain it." Sale advised adjusting comp plans every six months.
Sales also stressed the importance of incentivizing the right sales behaviors in the early days of the company.
"In a lot of organizations, especially in an early-stage company where revenue is really important, you might be incentivizing your sales team on multi-year deals and upfront payment. If you can get your customers to pay a large deal upfront, that could delay your needing to fundraise and allow you to scale up a couple more million. So, you're not being diluted as quickly, and you get less dilution, overall," Sales said.
Follow us on social media for the latest updates in B2B!
Twitter – @MarketScale
Facebook – facebook.com/marketscale
LinkedIn – linkedin.com/company/marketscale
Latest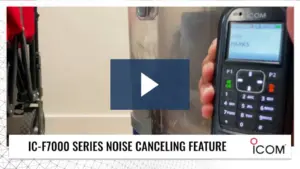 September 27, 2023
In this brief product demonstration video, ICom's IC-F7000 Series receives a mic test of its noise-canceling feature. Through the two demonstrations it is clear the IC-F7000 removes loud ambient noise for clear two-way communication.
Read More