Security Education Has to Prioritize Data & Analytics Training for Today's Hybridized Security Risks
The world is in a digital era, which means the abundance of data cannot be overstated. Still, making sense of it remains a challenge. With emergent security threats, mastering data and analytics becomes the standard, not merely for academic prowess but for ensuring public safety. For instance, the function of Homeland Security relies on an operations managers' proficiency in data utilization, evidenced by its integration into university programs. Security education has evolved to include this and more, per industry experts.
Beyond traditional threats, the growth and expansion of drone technology further exemplifies this narrative. Drones are a promising and modern tool for security, but they highlight other concerns that push for more technological advancements. Richard Ham, Associate Director of the Master of Science in Engineering Management Program at the University of Arkansas, is committed to equipping students with the skills to navigate a complex and data-driven landscape. Exhibiting at the GSX 2023, he enlightened guests on how security education has evolved, and how the University of Arkansas is addressing these changes and the skills that students have to acquire to be efficient in modern security.
Ham's Thoughts on Security Education
Data Abundance and Evolving Security Education
"We're drowning in data but we're dying for information. We have more data now than we've ever had. So we have all this data, but now what? Now what do I do with it? How do I use it to make decisions? The main reason we'd be here is for we have a certificate in Homeland Security. That certificate rolls into our master's degree in Operations Management. So we developed a certificate, and that certificate specifically has led to, within that, a micro certificate… for autonomous systems."
Technology Integration and Data Management
"We've done several research projects specifically on the use of drones… how drones are used in different types of security events… about how, in fact, we can use different types of technology to maintain everything from access control to, you know, predicting insider threats. Certainly, since September 11, everybody has a security role. Everybody would say cybersecurity, and certainly there's cyber things, not just cyber and drones… It's all about data… using analytics to predict where we think we're going to have the most problems… But the use of data and analytics to make decisions, to make decisions and to predict where we should go in the future, that's probably the most important thing that's changing."
Analytical Approaches to Threat Detection and Digital Twins
"We're focused on how do you use analytics? How do you look at different threat profiles? And then how do you build, if you will, different predictive models to try to address where the next threat is… But if you start looking at data, the trends start to emerge, and then over time you can know… and that's really where our focus is. So one of the things that's used in several different manners, one obviously has a use for the FAA and how do we make airspace work, but the very things that make airspace work really well can be good or bad. And so if we talk about the concept of the use of digital twins, in other words, over time building a high-level, building a high-resolution, three-dimensional model so that a drone could safely navigate around it, which is the FAA's concern with safety. But the thing about 3D models is it also gives something that's great to figure out how you would react and respond if you're a good guy. But it also, if it's not controlled, can be something that someone with nefarious intent can use… So the control of that data, and then after we've controlled it to just being the people that should have it, then how do we make sure it's updated?"
The Dual Nature of 3D Models
"…the thing about 3D models is it also gives something that's great to figure out how you would react and respond if you're a good guy. But it also, if it's not controlled, can be something that someone with nefarious intent can use so that they could, in essence, build the high ground. So to give you an example, you've got a great 3D model of our campus at the university, and you are an active shooter. You could use that 3D model to determine where are the places that you could go where it would be very difficult to see you, that the terrain would mask you, that you would be able to see if somebody was coming towards you like a law enforcement response from a long way away. And that model will let you predict that exactly and perfectly."
National Security and Threat Detection
"There is definitely a threat, not just to national security, but for a threat that you could use if somebody was basically, whether it's an active shooter or something else, that they would use to basically gain the high ground. The detection of those, to know when someone's in place, to know when one is flying…the idea of a complete picture of the cyber requirements, the issues that we see that are associated with identifying a threat from those drones, and then how do we respond to and mitigate them."
Article written by Alexandra Simon.
Latest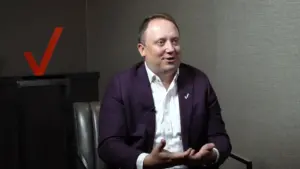 December 1, 2023
For a special episode of The Verizon Partner Network the focus was on the considerable role of partnerships in the Verizon Partner Program and the leaders shared their perspectives on the initiative. Their conversation brought about a lot of thought-providing context on the evolving telecommunications landscape. In today's era, collaboration and integration are key to […]
Read More