Shattering Glass Ceilings: The Epic Rise of Women in Manufacturing and Technology
Females make up close to half of the U.S. workforce, yet only one-third of manufacturing jobs are held by women, according to the U.S. Department of Commerce. In an industry that is male-dominant, it can be intimidating for some women to try to rise to executive leadership roles.
How can women in manufacturing, such as the glass industry, promote themselves and take advantage of the opportunities they have to enter the leadership realm?
On today's episode of DisruptED, Manufacturing Edition, host Ron J. Stefanski and Cohost  Kelly Ireland of cbtechinc, speak with Syndi Sim, Vice President of Marketing and Business Development at Diamon-Fusion International, to talk about women in the manufacturing industry, her experience in the executive space, and what other women in manufacturing can do to gain leadership experience.
For almost every industry, networking is an essential piece to rising to leadership roles and entering the executive space. And that's no exception for women looking to become leaders in the glass industry.
"Networking is absolutely part of the business acumen, and I think that women are starting to do a better job of really ensuring that they get invited or just showing up," Sim explained.
Stefanski, Ireland, and Sim also discussed…
How the glass industry has prioritized opportunities for female leadership
Why it's critical for women to "show up at the table" when invited to leadership opportunities
What the National Glass Association does to educate and inspire high schoolers to enter the industry
"You have to make the uncomfortable step to get noticed. You have to make the uncomfortable step to be a woman at the C-suite and be a player in the industry and you have to make motion to get there," Sim explained. She later added, "In the glass industry, women are really starting to showcase what they have to offer."
Syndi Sim is a business development and marketing leader with more than two decades of experience. Currently, she is Vice President, Marketing and Business Development at Diamon-Fusion International and has held roles such as Director of Marketing at Lexipol, Director of Business Development and Marketing at Penco Engineering, and Director of Business Development and Marketing at New Century Mortgage. She attended California State University, Fullerton, where she earned a BA in Sociology, Criminology as well as August Volmer University, where she earned an MA in Criminology. Sim also holds a Women in Leadership Certificate from Cornell University.
Latest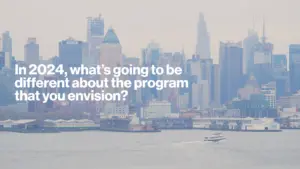 December 1, 2023
In the dynamic telecommunications landscape, Verizon's Partner Network continues to evolve, adapting to new trends and opportunities. For another segment featuring Mark Tina, VP of Indirect Channel Distribution and Channel Chief at Verizon Business Group, he explores exactly what types of significant changes and advancements the Verizon Partner Network will see in 2024. In this […]
Read More