Short Form Videos Are Easy To Make
Short-form videos are everywhere nowadays. And, now, as platforms like TikTok, Instagram Reels, YouTube Shorts, Google, LinkedIn, and Pinterest expand their short-form offerings, brands are continuing to take notice.
But what exactly is a short-form video and what makes them so appealing to brands?
Short-form videos are usually between 15–30 seconds and they're usually used in social media marketing campaigns. They're also known as "bumpers," "bite-sized," or "snackable." Often called "soundbites."
But, what makes these videos so appealing to brands?
Well, for one thing: they're easy to digest! A lot of people don't have time for long videos anymore—they just want quick bursts of information that they can watch on their way into work or during their lunch break.
This is why short-form videos are so popular—they allow viewers to get the gist of things quickly without having to sit through a full length video.
Short-form videos also allow brands to connect with their audience in a fun way that isn't too serious or boring. They're great for grabbing attention because they're unexpected and unconventional compared to other types of content (like blog posts).
A Look into the Future of Short-Form Videos
If you're looking to increase your brand's reach, you should consider investing in short-form video.
As a study by Wyzowl found, people share videos at twice the rate of any other form of content. And 84% of people are convinced to buy a product or service based on a brand's video.
So, we already know video content is increasingly becoming an important part of every brand's content marketing strategy. But when we look at short-form video specifically, the data (gathered from the HubSpot Blog's 2021 Social Media Trends report and 2022 Video Marketing Report) speak for themselves:
Short-form ranks #1 for lead generation and engagement.
Marketers will invest more in short-form video than any other content format in 2022.
Nearly half (47%) of marketers surveyed believe short-form videos are most likely to go viral.
54% of marketers surveyed say their companies leverage short-form videos
So short form content is an essential part of your marketing strategy. Here are practical ways to use short form video content.
Educational or Explainer Media
For many years, brands have been trying to connect with audiences through short-form videos. And it's worked! In fact, Wyzowl found that 73% of viewers prefer short-form video content over long-form content.
But what kind of short-form video content are they watching? Well, I'm glad you asked!
According to Wyzowl's 2020 report, "viewers want to see more educational content." In fact, 32% of marketers surveyed in our social media trends report say they currently leverage educational content and 57% of those who do say it's one of the most effective content types.
So why is educational content so popular? Because it helps audiences in their day-to-day lives. Brands that make education a priority in their marketing strategy can improve lead generation and build stronger brand loyalty.
Similarly, explainer videos target users who are at the decision-making stage of the buyer's journey and, if done right, they can turn decision-makers into customers. It's a win-win situation: Brands get to address their audience's pain points and offer solutions, which is (surprise!) them!
User-Generated Content (UGC)
UGC is a winning strategy because it's budget-friendly, and it evokes emotion.
We know that UGC can influence your purchasing decisions more than brand- or influencer-generated content. That's why we've created, MarketScale Studio, a platform that allows you to share your authentic life experiences with the world.
We want you to be able to tell your story in the ways you want to tell it—and we want you to be able to do it without any of the hassle associated with creating content for social media. One great thing is that most short form video content and user generated content can be created on a mobile device. Follow this link to check out another great video if you are interesting in learning more about how to shoot video with an iPhone.
We believe that when brands share authentic stories from real people, they're more likely to connect with their audiences and convert them into customers.
Company or Product Updates
Think of all the press releases, marketing campaigns, and other announcements that come from your company… there's probably a lot.
Why not quickly create a quick video message about any company or product updates and get it published for your community. It's a more engaging way to talk with your audience, beyond just written content.
And to make this processes even easier, use MarketScale Studio.
MarketScale Studio enables effortless video and podcast recording for B2B companies, helping subject matter experts create and share content with full marketing department approval.
The strategies and tips above should help you get the most out of your video marketing strategy, no matter how much time and money you're able to invest. Many of these approaches can be used simultaneously, and some of them may apply more to certain types of businesses or brands.
But one thing is for certain: you can start today on your journey of short-form video content creation to engage your community and grow your business.
Want more In the Studio? Subscribe here to get update as we share new episodes:


Latest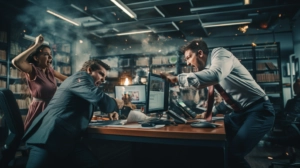 September 22, 2023
The kind of news that is delivered everyday serves as a grim reminder of the escalating violence across the U.S. Evidently, the need for proactive measures to ensure safety has never been more pressing. Such violence is not limited to any particular locale. It's actually permeating in so many different areas once considered […]
Read More