Stenograph® and vTestify™ Announce New Technology Licensing Agreement to Bring Greater Value to Legal Transcription Industry
PRESS RELEASE
SEP 14, 2022 11:00 CDT
DOWNERS GROVE, Ill., September 14, 2022 (Newswire.com) – 
Stenograph, LLC, and vTestify announced today an exclusive, best-in-class technology licensing and go-to-market agreement. With this agreement, Stenograph and vTestify will create new solutions that will aim to provide superior user experiences and offer capabilities that will empower customers to change the status quo by adding value beyond the capabilities available with current solutions. Stenograph will exclusively sell, market, onboard, and support all current and future solutions to new customers using this technology for the global legal market.
"Our vision is to empower the capture, preservation, and accessibility of verbatim records. This strategic agreement is another step towards fulfilling that vision," said Anir Dutta, President of Stenograph. "Stenograph's remote deposition solutions based on vTestify technology will now become a critical element of the ecosystem of solutions that will empower customers to provide their clients with in-testimony review along with an instant rough transcript and a video-synced final transcript as soon as a remote or hybrid deposition is concluded."
Through this strategic initiative, the two companies will extend the current integration of CaseViewNet®, Catalyst®, and RealTeam™ with vTestify to include new development of digital realtime reporting with MAXScribe™ and Phoenix automatic speech recognition technology. The two companies will continue to incrementally develop upon Stenograph products and develop cutting-edge solutions that will make it simple for court reporting and transcription agencies to find and schedule reporters, to implement an end-to-end transcript production workflow, and to provide a leading industry platform for remote and hybrid proceedings, regardless of the method. Keeping in line with the vTestify and Stenograph focus of "Customer First", select members of the vTestify team will join Stenograph to help support this strategy.
"For vTestify, it was a no-brainer that we could add value by working with Stenograph, the leading provider of hardware and software in the legal transcription marketplace for the past eighty plus years," said Mike Hewitt, President of vTestify. "As we embarked on finding the right technology partner, it became very clear to us that Stenograph not only had the breadth of solutions that would be able to complement the vTestify platform, they also had the most accurate and appropriate automatic speech recognition technology for the legal market. I am extremely excited about this relationship and its potential of creating truly unique and differentiated solutions for the legal marketplace."
For more information contact Dan Denofsky, Vice President, Marketing, Stenograph, LLC ddenofsky@stenograph.com.
Latest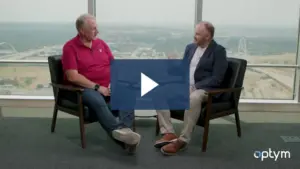 September 26, 2023
Making LTL shipping frictionless is more than possible; it's happening today. How can one challenge the status quo and embrace technological transformation in an industry that has historically resisted change? In this captivating episode of Semi-Related, Chris Torrence sets the stage for a riveting conversation with Todd Florence, the Chief Information Officer of Estes […]
Read More