The Divergence Between Stocks and Bonds & Emerging Market Trends
As the world of investing continues to evolve, it's crucial for industry leaders to keep pace with the shifting landscape. One particular topic gaining traction is the divergence between stocks and bonds – an economic paradox affecting portfolios worldwide. Recent data shows that traditional investment strategies, like the 60-40 portfolio (60% in stocks and 40% in bonds), are faltering amidst these changing dynamics, necessitating the need for adaptive investment strategies.
So, what's causing this divergence and what are the implications for your investments?
In the latest episode of Untamed Ethos, Joshua Wilson and Dr. Russell Rhoads dissect these complex dynamics. They dig into the state of the current market, how AI is impacting investing, the potential impacts of the debt ceiling, and the role of alternative investments.
Dr. Wilson and Dr. Rhoads discuss…
The significance of the divergence between stocks and bonds, and how it's affecting traditional portfolio structures.
The role of AI in investment strategies, particularly as a tool for diversification and risk mitigation.
The importance of alternative investments in a challenging market environment.
About Joshua Wilson
Joshua Wilson is the founder of United Ethos Wealth Partners, a registered investment advisory firm. As a dedicated investment professional, he brings his wealth of knowledge and experience in finance to bear, guiding investors through the complexities of wealth management. Wilson is known for his authentic, unfiltered approach to discussing market trends and his commitment to providing meaningful insights to listeners.
About Dr. Russell Rhoads
Dr. Rhoads brings a wealth of knowledge from his extensive background in finance and business, currently serving as a Clinical Associate Professor at the Indiana University Kelley School of Business. His insights and understanding of market trends offer valuable perspectives on the current state of the stock market.
Latest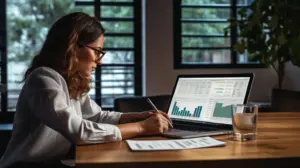 October 4, 2023
The intersection between security and financial acumen often gets overshadowed in a constantly changing economic landscape. While security is essential for safeguarding assets and ensuring continuity, its perceived monetary value is mired in misconceptions affecting company profitability. For many, security is viewed primarily as an expense rather than a potential cost-saver. However, understanding […]
Read More