The Impact of Tech Layoffs on Remote and Overseas Workforces
As businesses search for profitability in the face of a potential recession, many tech companies have made the difficult decision to layoff significant portions of their staff. But what, if any, impact does this trend have on the remote and overseas workforce? We asked Lach de Crespigny, Co-Founder of Revelo, to break down this impact and discuss how companies like Revelo are responding.
Watch or read his response below:
Transcript:
A recent wave of layoffs in the tech industry may have impacted some in the talent sourcing industry. For Revelo, it hasn't had an impact. Revelo works with software engineers with US companies hire remote software engineers across Latin America. The shift to remote has been so large, and as soon as companies shift to remote, they start to realize that they don't need to pay $300,000 or $400,000 for a Silicon Valley software engineer that they can get much better quality, much more affordable and a higher volume of candidates. If they look across Latin America, they come to a platform like ours because it's easy.
It's just as easy to hire those candidates through ads as it would be to hire an equivalent candidate in Texas, in Utah or in Minnesota, et cetera. That shift has been so large that it's swamped any impact from the tech layoffs. We've more than doubled in size since December. We've never had so many active searches. The platform never had so many companies that are actively recruiting, actively hiring. And so for a company like ours, it's really that remote shift has dwarfed anything that the tech layoffs have created.
We're still seeing the standard requests for standard sets of programming languages for software engineers, so a lot of requests for Python engineers for React frontend engineers, some senior frontend engineers. Interestingly, we have had companies that have come to us specifically for technologies that they know is strong across Latin America. A lot of companies come to us because the strong Ruby on rails and communities across Latin America and a lot of companies come to us because they know that Latin America has attracted a massive amount of fintech investment, which has created a lot of senior software developers. The good amount of experience in fintech and all the technologies that are associated with building top quality fintech company.
With the acquisition of Listopro, we now own all the major sources of high quality software engineers across Latin America. Latin America is crucial. It's the only region that allows you to work in the same time zone as your team. The candidates from Latin America are culturally close, technically strong. As I mentioned, the salaries haven't yet climbed to San Francisco and New York levels with this acquisition. It means that for any of our US clients, we can literally within seconds identify thousands of candidates that are actively job searching at any one time that have the right attributes that those clients are looking for to a massive degree of accuracy. So it puts Ravello as the clear market leader for any US company that wants to hire remotely across Latin America.
*transcript and captions are auto-generated
—
Latest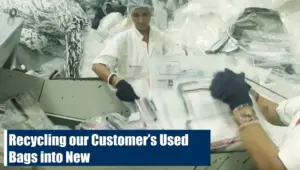 December 6, 2023
This video focuses on EcoLOK4, a groundbreaking product by CONTROLTEK that exemplifies innovation in sustainability. It highlights the process of transforming landfill waste into new deposit bags, with 90% of each bag's material being repurposed trash. This initiative not only reduces waste but also closes the sustainability loop, demonstrating CONTROLTEK's commitment to environmentally friendly […]
Read More