Then What: How the Pandemic is Changing Digital Art and Design
To distract ourselves from the challenges of today's global health crisis, many of us can't help but think toward the future. What's next? What can we expect in the months and years ahead, not just in our own lives, but on a global scale?
Grant Bart, the host and founder of Then What, aims to do just that. In this episode of the podcast, he meets with Rodman Primack, the founder and owner of RP Miller Design, to source his views on art and the world.
Primack and his husband Rudy recently launched Ago Photo, an opportunity for photographers to bring a new point of view to their fans and collectors. Because their team and clients are located in different parts of the world, Primack realized the value of adding digital art techniques to his skillset.
He noted that, before, it would take multiple efforts to communicate his vision to his team to get things right. "Now, I can do it myself, and it's amazing to realize that efficiency and to think about how I can apply it back to a more normal pace."
Just as the pandemic has forced him to change at a personal level, Primack understood that huge, creative transformations were happening all around the world, as well.
"Great things come out of hitting walls – come out of distress," he observed. "Some of the most exciting developments in architecture and design in the 20th century were responses to World War I and World War II, so how do we take this moment and recognize that this is a tipping point, globally?"
Join us for the next episode of Then What, where we'll meet with an upstate New Yorker for their stories of leadership and optimism.
Follow us on social media for the latest updates in B2B!
Twitter – @MarketScale
Facebook – facebook.com/marketscale
LinkedIn – linkedin.com/company/marketscale
Latest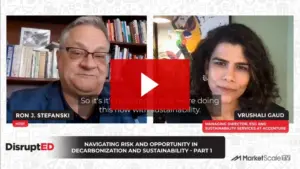 September 26, 2023
The global conversation has shifted dramatically towards decarbonization and sustainability in recent years. With the world experiencing unprecedented levels of disruption, from 5G technology to the challenges of a pandemic, the urgency to address climate change and its implications has never been more palpable. Although most business leaders see the vision of Sustainable Development […]
Read More