With Consumer Prices at Record Inflation, How Will the Fed Respond with Future Interest Rate Hikes?
Consumer prices have been soaring, reaching an inflation rate of 9.1 percent in mid-July, a record-high rate since 1981, according to PBS. Not only are consumer prices inflating, but employers such as Walmart are also inflating wages.
Why and how much are Walmart wages inflating and how will this impact the economy as a whole? Evidently, Walmart will raise their minimum wage to $14 dollars per hour, a 17 percent increase that will result in 340,000 raises. While job cuts nip at the heels of retailers, they have managed to avoid them. Instead, Walmart has chosen to invest in their employees with other benefits such as expanded college degree and certificate offerings to prevent costly employee turnover.
So, how will this wage inflation start to impact the U.S. economy as many people predict an impending recession, and how will it play into the Federal Reserve's monetary policy actions moving forward after consecutive interest rate hikes? Tim Snyder, Economist at Matador Economics, explains why retailers are offering increased wages, how the Federal Reserve's interest rate will determine the U.S. economic path, and how this may impact job numbers and inflation.
Tim's Thoughts
"There was a story out this week that Walmart and several other large block retailers were raising their hourly wage to keep their key balance in the retail world. Many are asking why when there are over 10 million available jobs in this country, are retailers offering a higher wage. The answer is found in where these job openings exist.
Strong retail creates strong demand for retail workers, and it pulls jobs and wages. Most jobs are not interchangeable. You can't take a software engineer and put him on a cashier line at a big box retailer. At least not for very long. The Job Openings and Labor Turnover Survey, show job openings have been falling from a peak in March of 2022 at 11.9 million jobs to the latest report showing 10.5 million jobs available here in the US.
With the Fed so keenly focused on the rate of unemployment in the United States and the number of available jobs, these numbers are critical to the decisions surrounding raising or lowering the discount rate. Many are asking if this trend can continue with millions of job openings in the United States and wages increasing.
If you're a Fed watcher, you know that these numbers have to begin to converge at some point for the Fed to back off their relentless pursuit of raising the discount. You must ask yourself if the Fed backs off interest rates, will jobs start to back up again? The answer is pretty simple. The biggest percentage of job openings in the Job Openings and Labor Turnover Survey report were from the reopening of the US economy.
After the worst part of the Covid shutdowns in 2020 and 2021, the jobs numbers will settle out as they recover this economy and pull inflation back under control."
Article written by Cara Schildmeyer.
Latest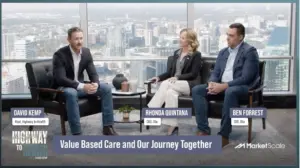 December 7, 2023
As of recent times, the healthcare industry has been progressively shifting towards value-based care, a model that emphasizes patient outcomes over the quantity of services delivered. This transition represents a significant shift that promises to enhance patient experiences and outcomes while controlling healthcare costs. With a growing emphasis on this approach, especially over the […]
Read More