Unlocking Warehousing Success with 3PL Compete: Your Comprehensive Database
Key Points:
Transparent and Consistent: Access to over 400 North American providers for informed decision-making.

Lease for Dedicated Warehouses: No mark-ups, free rent tax, and economic incentives for greater control.

Reliable and Cost-Effective: Replace providers without significant relocation costs or disruptions.
Summary:
3PL Compete is a comprehensive database for third-party warehousing options that offers transparency and consistency, unlike other similar services. With over 400 providers in North America and plans for international expansion, 3PL Compete ensures clients have access to all available options in the market. Unlike other companies that simply refer providers, 3PL Compete follows a rigorous process and analytics to consistently produce reliable information and results for clients on a market-by-market basis.
While 3PL Compete offers advantages for both shared and dedicated warehouses, they strongly recommend holding a lease for dedicated warehouses. This eliminates mark-ups on rental rates, offers free rent tax and economic incentives, such as property taxes and tenant improvement allowances, which can minimize capital provided by third-party providers. Holding a lease also provides control over the financial status and payment ability of the third-party provider, eliminating concerns in case of poor services. Clients can easily replace providers without significant relocation costs or disruptions associated with moving to another building, as the lease agreement is amortized and termination costs are reduced.
Overall, 3PL Compete empowers clients with information, data, and options to make informed decisions in each market, ensuring they have the flexibility and control over their warehousing needs without unnecessary costs or disruptions.
Latest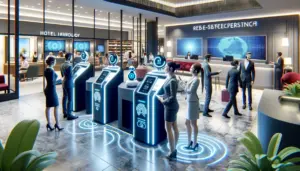 December 8, 2023
Facing critical staffing shortages, over 80% of hotels struggle to fill positions despite offering higher wages and flexible hours, as reported by a recent American Hotel & Lodging Association survey. While slightly improved since May 2022, this situation highlights a significant challenge in the hospitality industry, with housekeeping roles being the most urgently needed. […]
Read More