A UPS Strike Was Averted, But Supply Chain Fragility and its Labor Model Are Now Back in Focus
The recent UPS Teamster strike that was narrowly avoided has brought to the fore concerns about the state of the global supply chain. As e-commerce has evolved and the immediacy of delivery has become the norm, we find ourselves questioning the sustainability of such a model. Our reliance on single supplier, high-speed logistics creates vulnerabilities, as demonstrated by the possibility of a strike. 
This event highlights the fragility of our highly efficient, just-in-time supply chains that can be disrupted by external factors like labor strikes, geopolitical events, or pandemics. Businesses, and indeed consumers, now face the challenge of reassessing their priorities. Is the cost and risk associated with ultra-fast delivery worth it, or should we reconsider the balance between efficiency and resilience? According to some experts, this was evident with the occurrence of several global events and it might be time to wonder if efficiency is being prioritized over resilience.
Robert Glenn Richey, Ph.D., is a Research Director for the Center for Supply Chain Innovation at Auburn University. He examined how a strike could've caused monumental ripple effects similar to what happened during the pandemic and currently, the war in Ukraine. He further added that just the potential of a strike is enough to impact the supply chain, and the extra costs associated would fall on the the consumer.
Richey's Thoughts
"…We've really stretched ourselves thin. So when an issue like this strike comes up, we're in a bad position, we can't respond. And so companies need to find ways that they can respond to these types of crises in a rapid way. And right now, we don't necessarily have the policies, the processes, or the infrastructure to take care of this type of massive disruption that would happen across the U.S. and elsewhere. And so whether you're a business-to-business scenario or a customer that's out there waiting for your product to arrive, you're going to deal with shipping delays, right? Those shipping delays are going to have impacts on operational adjustments, where we go to get our parcel delivery, how we work through those things.
"They're going to have an impact on our inventory management numbers. I would expect there are companies out there today that are trying to build up inventory. There'll be others that will wait and won't be able to get to it. And so significant approaches to how you deal with your inventory strategy will have to change as well, along with the process and operations to get the product there and when it needs to arrive. And this is a scenario that's going to increase cost. I mean, we're talking about salary increases for the UPS Teamsters. I did see no comment really on whether that's earned or not. Certainly these folks are working a hard job.
"Those brown uniforms out in late July, August, it's really almost as difficult as the stuff they deal with in the wintertime during the holiday season. So offer those folks a soda or a water or something like that when you see them out there running around. They do good work, and they're certainly very valuable to the supply chain, especially in the U.S. But those costs will filter down. Certainly the manufacturers, the wholesalers are not going to eat those costs, so the consumers will have to pick those up. So will the business companies that are dealing with these costs."
As the landscape of parcel delivery constantly evolves, the gig economy has been stealthily transforming the 'last mile' -a crucial step in the supply chain journey. Flexibility and cost-effectiveness has led to the successful integration of gig economy dynamics into various industries for delivery services. But threats of potential disruption, like a UPS strike, could significantly reshape the traditional methods of last-mile delivery. This evolution isn't confined to customer-based transactions, but might also be the new normal for B2B markets.
David Dobrzykowski is an Associate Professor in the Department of Supply Chain Management at the University of Arkansas, as well as Director of the Master of Science Program in SCM. He explained where independent drivers, who also operate in this area of fleet service, could possibly come in as a saving grace. He said the leeway of their gig employment could be extremely beneficial to companies faced with strike concerns. 
Dobrzykowski's Thoughts
"One of the most consequential trends that has been lurking in the shadows of parcel delivery for the last few years is undoubtedly share economy gig drivers operating the last mile. We've seen platforms from grocery delivery to retail delivery to even restaurant food utilize this platform very effectively. And when you consider the fact that these drivers are independent contractors, free of benefits and other types of legacy types of costs, as well as the fact that they provide the employer much more flexibility, this could be a real option should the strike at UPS happen and could consequently really change the model of last mile delivery, even in a B2B type of market."
Dr. Robert Glenn Richey has a unique perspective on the issue, having run a large distribution center during the 1997 UPS strike. Today, he's the Harvard Eminent Scholar at Auburn University, extensively researching transportation and supply chain issues. 
David Dobrzykowski is an Associate Professor at the University of Arkansas, known for his insights on supply chain management.
Latest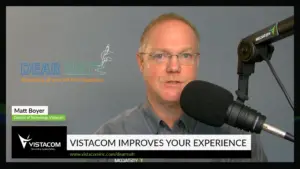 December 11, 2023
In a time when the AV industry supply chain faces unprecedented challenges, understanding its current status and future trajectory is crucial. In this week's segment of "Dear Matt," presented by Vistacom, host Matt Boyer, the Director of Technology at Vistacom, brings his over 30 years of experience in the audiovisual industry to the status […]
Read More