Weaver: Beyond The Numbers Podcast
On this episode of Weaver: Beyond The Numbers Podcast, hosts Rob Nowak, Partner, Tax Services at Weaver, and Howard Altshuler, Partner-in-Charge, Real Estate Services at Weaver, discuss climate change and adaptability for the real estate industry.
This past year we've seen extreme weather events creating stress on buildings, infrastructure and the supply chain. Texas faced unprecedented heavy winter storms, which caused major disruptions for the region. There have been extreme wildfires, and most recently a hurricane caused destruction with flooding and deaths on the Gulf Coast and up the East Coast. "Regardless of your position on climate change, it's pretty much given that storms and weather events are getting worse and worse," Altshuler stated.
"We're building real estate today that's going to be here for 30, 40, 50, 100 years, so should we be planning for the fact that there can be more extreme weather events, more stresses on real estate, and start to build that into our design and construction," Altshuler stated.
What will it take to get there? "I would not be surprised if at some point in the near future we saw a tax deduction or tax credit around sustainability of real estate," Nowak commented.
Listen to learn more about the future of sustainability and adaptability in real estate.
Latest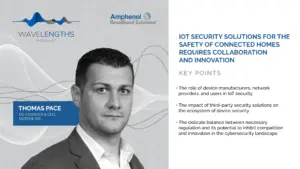 November 28, 2023
Since the introduction of smart devices, the world has increasingly become dominated by interconnected devices but IoT securitydemands are also growing. The "connected home" has shifted from what was once a futuristic concept to reality. With the global smart home market projected to reach $135.3 billion by 2025, the conversation around the security of these […]
Read More