Work After COVID: What Do the Workplaces of 2021 and Beyond Look Like?
With vaccines rolling out around the globe and the worldwide reopening in full force, conversations about the nature of workspaces and collaboration are critical to the future direction of organizations the world over.
Physical office spaces are back on the table – in fact, Microsoft has announced a multi-stage plan to return to its sprawling campuses.
But what will the workspaces of the immediate future and beyond look like? Will remote work still be the norm for many? How will offices cater to interactions between team members on site and those working from home or traveling without sacrificing engagement?
First, let's look at some surprising statistics that tell the story.
Key Facts and Figures about the Post-COVID Reopening
Remote work is here to stay, at least in some capacity. A PwC survey found that, compared to a similar survey in June of 2020 (73% of respondents), 83% of employers say that remote work has been successful for their company.
Further, the survey found that over a third of employees say they're more productive now than they were prior to the pandemic, and over half of executives agree with their sentiment.
Still, that doesn't mean that we're all going to do away with physical offices.
In fact, 87% of employees in that survey said that collaboration and relationship building are top needs for a physical space, and 65% of executives said they view the office as "very important" to increasing employee productivity.
So, remote work is still attractive – but so is the face-to-face interaction that can only occur in a physical workspace. How are organizations going to make both happen, particularly when a Great Place to Work survey of Fortune 500 executives found that more than half of leaders are targeting a return to the office within the next year?
It's time for hybrid workspaces and powerful technology solutions to step up to the plate.
Crafting a Hybrid Workspace with Innovative Collaboration Solutions
Powerful, contactless technology solutions are the key to navigating the post-COVID workplace landscape.
Organizations need to empower their teams to return to the office with full confidence and peace of mind regarding their well-being, and outfitting collaborative spaces with technology that makes sharing, creating and working alongside one another contactless is the premier way of doing just that.
Designing safer workspaces will require a slight reframing of what the office truly is, but there are ways to seamlessly accomplish that shift, such as:
Cutting down on open, unassigned workspaces in favor of safer, well-equipped conference rooms and huddle spaces and tighter organization of seating arrangements.
Finding technology solutions that are simple to use, easy for IT teams to maintain and empowering for employee collaboration without excessive touching or interaction.
Budgeting correctly to make an investment in technology that will provide long-term ROI in the form of employee confidence, flexibility and more.
Engaging in thorough cleaning and disinfection protocols, as well as implementing holistic system control and touchless sensors for doors, lights, etc. where possible to limit touchpoints.
Perhaps the best investment an organization can make is in a cutting-edge wireless display and conferencing technology solution. When integrated with unified communications platforms to enable hybrid meetings, these solutions help future-proof technology suites and keep workspaces flexible and high-performing for years to come.
With the right contactless, wireless display solution, employees can share their screens, work on documents together in real time, and more – all without any cables, buttons or controls.
To learn more about how ScreenBeam is enabling the safe, hybrid workspaces of the post-COVID future, contact us today.
Latest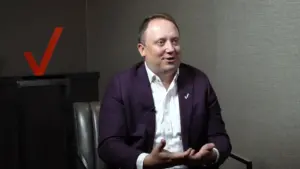 December 1, 2023
For a special episode of The Verizon Partner Network the focus was on the considerable role of partnerships in the Verizon Partner Program and the leaders shared their perspectives on the initiative. Their conversation brought about a lot of thought-providing context on the evolving telecommunications landscape. In today's era, collaboration and integration are key to […]
Read More