10 Years of Catapult Solutions Group
Since 2013, Catapult Solutions Group has strived to be the very best staffing firm it can be. While it started out small, it has since grown to become a top staffing firm, winning multiple awards between 2021 and 2022, including being named one of the fastest growing firms in the USA.
On this episode of Hire Education, to celebrate ten years of Catapult Solutions Group, CEO & Founder Patrick Burke sat down with two of his co-workers—Chief Delivery Office Mitch Blackwell and VP of Delivery (as well as Founder) Chris Burke—to talk about this monumental achievement for the company. Patrick begins by saying "Chris and I, and a bunch of others, wanted to start our own company and do it our way" before going into the story of how the company came to be in San Antonio, TX. While it took some time to nail down what exactly they wanted to focus on, they eventually got there, becoming bigger than they ever expected to be.
The trio also discuss:
 The difficulty of starting a new business (and keeping the lights on).
Stories of moments and events that occurred in those first ten years.
The many employees who have come and gone.
While spending a lot of time telling stories, Chris also wants to make clear just how much has changed in the last decade, and how large Catapult Solutions Group has become. "What I realize today sitting here…it's bigger than all of us," says Patrick. This is bigger than Chris, and Mitch, and myself. There's a huge company out there with seventy-five to a hundred employees we have, we have people intentionally in Europe, and so it feels really good to see something that's much bigger than who we are."
Latest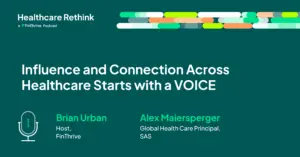 September 29, 2023
In the latest episode of the Healthcare Rethink podcast, presented by FinThrive, host Brian Urban sits down with Alex Maiersperger, the Global Principal Healthcare at SAS. Their conversation charts the role voice plays in influencing and connecting the healthcare industry. Maiersperger, who co-founded the Advancement League, shares his journey from being a healthcare optimist to […]
Read More