3 Ways Connectrac Helps Colleges and Universities Reach Students
With fall term just around the corner and the COVID-19 pandemic continually present, many colleges and universities reinvented their teaching models. When classes went online last spring, institutions learned lessons on how to deliver remote instruction yet still engage students. Now public and private schools across the country are taking a hybrid approach as classes resume, with a mix of in-person and remote instruction. Connectrac solutions facilitate these hybrid programs in three key ways so institutions can deliver best-in-class education.
1) Technology Where It's Needed
Many campuses will combine alternating attendance in classrooms and lecture halls with online student instruction for proper social distancing. To help remote students interact with their classmates in real time, colleges and universities have turned to technology. Faculty will enhance the virtual learning experience through digital displays and monitors, video cameras and microphones. But limited perimeter electrical outlets can hamper innovative digital arrangements. Extension cords are not a sensible option as they are unattractive and, more importantly, create trip hazards for instructors and students.
The Connectrac® Under-Carpet Wireway and on-floor systems provide power and data wherever they're needed in classrooms, lecture halls and social gathering spaces. Our smooth, ADA-compliant wireway profiles can unite students through technology in a safe, seamless manner at virtually every point in the room.
2) Flexible Classrooms
Discoveries will emerge as faculty and students explore new teaching territory. This means that flexibility is essential to support collaboration between online students and their in-person counterparts. As a result, classrooms must be able to assume multiple configurations over time.
Connectrac wireways can be moved easily, so changing interior layouts while maintaining connectivity becomes a practical option. By allowing spaces to quickly adapt to new modifications, Connectrac solutions help colleges and universities continually improve the way they serve in-person and digital learners.
3) Campus Life
Classrooms aren't the only spaces where Connectrac offers colleges and universities convenient access to power and data. Many academic offices will be equipped with video and microphone technology to protect staff. Institutions are also incorporating dynamic video conferencing and streaming capabilities in student gathering spaces to promote socialization for remote students.
Connectrac wireways bring abundant, accessible options to student unions, lounges and public-use spaces for extra charging stations, stronger Internet service, and augmented video experiences. In academic offices, our on-floor and under-carpet solutions can bring technology right to the point of service.
Colleges and universities are charting dynamic courses in learning and social interaction on campus. As higher education institutions evolve in these challenging times, Connectrac equips them with the reliable and agile infrastructure to foster enriching experiences and keep students engaged.
Latest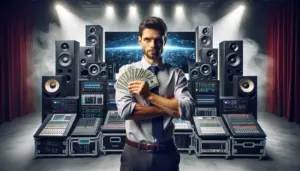 December 8, 2023
Mastering AV sales strategies in a global professional audio-visual (Pro AV) market, poised to reach $79.2 billion by 2028, requires much attention to detail. The surge in demand from corporate, government, and institutional sectors, driven by the need for enhanced productivity and efficient working environments, gives AV sales pros a lot of opportunity. In […]
Read More