4 Keys to Getting the Most from GIS Data after Redrawing Boundaries
By Eric Wells
When Muskogee Public Schools was faced with the need to completely redraw the school boundaries in our district, investing in geographic information system (GIS) software was an easy decision. Once the dust settled from that ambitious project, we realized our new GIS tool made available mountains of data that could inform a range of decisions. Here are four that we're most excited about.
1) Add Transparency to Bond Measures
In a few months, Muskogee schools will put a bond issue before the voters in our community. We're working with the county assessor to get home values and addresses in a GIS format to input to our GIS school locator, a public-facing portal. This will allow parents to tell not only where their child will attend school, but also to get a close estimate of what their property taxes would be upon successful passage of the bond.
Of course, any time you're asking people for money, the more transparent you can be, the better off you are. The kinds of data we're able to put out for public consumption will help voters make an informed decision.
2) Improving Equity by Placing Student Data on the Map
Since each student has a unique student ID, we're able to tie their performance data with geography-based data from our GIS software, ONPASS® Pro. We have our district and school boundaries and geocoded student data all in one place on a map. If a school is underperforming, we can go back and look at student factors we may not have considered before, such as whether the struggling students are transfers (and if so, where they're coming from) or if they live in a part of the district where they're spending an inordinate amount of time on the bus each day.
This gives us another layer to look at when examining the makeup of the student body in a building. It's added a whole new realm of data for us to uncover trends and then pinpoint specific issues and come up with a plan to address them.
In our recent redistricting process, we saw the effects of letting something like this go unaddressed when we realized that one of our schools was not a neighborhood school at all—more than half the kids in attendance were transfers. The school wasn't performing well and everyone just assumed that the neighborhood the kids lived in had something to do with it.
Finding out that a large proportion of the kids were transfers allowed us to get them back into the schools they were closest to and then allocate resources across the district more equitably and effectively. Those kids, and all the others in the district, are getting a fair shake now, and we're confident that will continue into the future now that we have some ongoing visibility into this particular issue.
3) Keep Everyone up-to-Date on Transportation
Our GIS software is not designed as a school transportation or routing solution, but we are still finding it useful in that area. Having geocoded data to share means greater interoperability between the technology tools in different departments. For example, in our transportation software we're able to add in hard stops, such as a railroad crossing where a train passes every day at 3 p.m. We can then figure out which students will be affected so we can communicate accurate transportation times with their families.
We are a high mobility district, unfortunately, with students coming and going frequently, so we have to add students into our transportation plan and take them out often. When a student enrolls, we grab their GIS status and the bus data comes right along with it. Soon we'll be incorporating JavaScript data from tracking tools on the buses with a forward-facing portal. Once that's up and running, parents will be able to log in to the website and find out exactly where their kid is on the bus in real time.
4) Avoid Future Major Boundary Changes
When we redrew our school attendance boundaries recently, it turned out to be a pretty large makeover. We realized very quickly after examining the GIS data that our maps were out of date and not serving our current needs. Our redistricting process resulted in closing some buildings and completely repurposing others. Even though the GIS data analysis demonstrated why boundary changes were needed, changes of that type can lead to upheaval and worry for students, parents, and staff.
We're now taking a much more proactive approach, looking at our current maps on a frequent and ongoing basis. We haven't had to make any changes since our boundary overhaul, but we're looking at simulations and talking about making smaller changes on a one- to two-year basis to ensure the changes are minimal.
Using GIS software to simulate changes should help us avoid future boundary changes altogether in some situations. Right now, for example, a developer is building about 100 houses within our district's boundaries. That will make a huge difference in our zoning, but we're able to look ahead and find different ways to slice that pie and get those kids assigned to appropriate schools before they've even moved in.
Eric Wells is the chief information officer for Muskogee Public Schools in Oklahoma. He can be reached at eric.wells@roughers.net.
Latest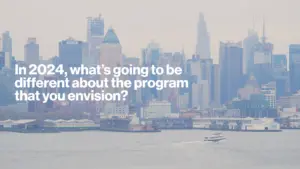 December 1, 2023
In the dynamic telecommunications landscape, Verizon's Partner Network continues to evolve, adapting to new trends and opportunities. For another segment featuring Mark Tina, VP of Indirect Channel Distribution and Channel Chief at Verizon Business Group, he explores exactly what types of significant changes and advancements the Verizon Partner Network will see in 2024. In this […]
Read More