9 Training Tips that Businesses can Learn from Remote Students
A global pandemic can change learning, but it can't stop it–and during a virtual EDUCAUSE conference session, educators heard directly from students how to best meet student needs during online learning.
Moderated by Kate Miffitt, director for innovation in California State University's Office of the Chancellor, and with questions led by Michael Berman, chief information officer with California State University's Office of the Chancellor, the discussion covered student engagement, mental health and well-being, online course structure, and much more.
"While it's important for those of us in IT and leadership to get together and talk about what we're doing, sometimes we don't get enough opportunities to listen to the voice of the students," Berman said.
1. Focus on accessibility during online learning.
"The best thing, overall, is accessibility," said Daniel Izarraras, a faculty instructional technology services student assistant at San Diego State University. "We have all the resources there, and [SDSU] helps with accommodations like hotspots and laptops."
2. Acknowledge differences in time zones–and states and countries of residence.
"Penn State worked really fast to adapt to online classes. …I'd say that sometimes, with international students like me, it's hard to attend classes when you're in a different time zone. [You can] watch Zoom recordings, but if questions come up during class–that's an issue we're trying to solve," said Laura Gil Ortiz, a tech TA and tech tutor with Penn State.
3. Don't be afraid to ask for help with technology.
"One issue I'd say a lot of professors have is just managing Zoom sometimes," Gil Ortiz said. "It's good that we have tech TAs to remind them to record, chat with participants, and activate certain features. I feel it's really important that I can help them with that."
4. Focus on student engagement and make it a top priority.
"The majority of professors do the same thing whether they have live or pre-recorded lectures–all they do is lecture," Izarraras said. "I have one professor who has really tried to make it interesting. He'll talk for 30 minutes, then give us a break and play a YouTube video. When we come back from the break, he's not using the same medium. If he used PowerPoint first, he'll have moved to a document camera, for example. People can't learn all in the same way, so he tries to accommodate different learning styles."
"I like that idea of switching mediums," said Adams. "Currently, [with my instructors], it's mostly just PowerPoint presentations. As far as engagement, it's not very engaging. Some classes probably have more naturally-engaged students. You can definitely tell the difference between a class where students have cameras on and are engaged in learning and then a class where the professor just talks."
5. Pay careful attention to remote proctoring tools.
"Lots of professors at Fresno State use a locked-down browser for exams," said Andrew Adams, a student at California State University, Fresno. "It ensures you're not switching tabs. I've had a good experience with that. You take a picture of yourself and a recording of your surroundings, and a picture of your student IT next to you. I've heard of students having trouble accessing it and not being able to download it. Generally, the professor would let them take the test without the locked-down browser, which brings in the question of fairness."
"We use locked-down browsers or monitors where it records your surroundings," said Izarraras. "We discourage using proctoring for faculty because of the problems it's created."
Those issues include device updates and updates to locked-down browser tools that require administrative passwords, forcing professors to make accommodations for students with those issues.
"I haven't heard complaints, but I've heard that it isn't convenient, and there are too many issues," Izarraras added.
6. Understand that students may need access to certain resources only available on campus or through campus computer labs–and may have to go to extreme lengths to access basic resources.
"The hardest thing has been getting books," Gil Ortiz said. "Sometimes they're available in the library and I can check them out and return them [at the end of the semester], but in the beginning, it was hard for me to get all the books I needed for classes. I'd get friends to take pictures of pages and send them to me so I could do homework. I have Amazon Prime in the U.S., but here [in Colombia], shipping can be around $70, and the book is already $100."
"I'd always go to the library after class to study or do homework," Adams said. "I haven't been able to do that–that's the biggest thing I miss, as far as university resources."
"In engineering studies, we have specific computers with all the programs you need as an engineer for AutoCAD, coding, etc., and not everyone's computer can run that–especially on a Mac," Izarraras said. "The biggest thing for me is that I have all these programs on my computer I didn't have before, and my storage is full."
7. Look to emerging technologies for social connection and engagement during online learning.
Immersive technologies, in particular, seem to draw more students in during class and promote more engagement with learning materials.
"I'm working with mixed reality to create an immersive, interactive platform for students. It's definitely showing potential–students are really engaged using it and they seem to enjoy their time using it," said Adams.
"Near the start of the pandemic, we [were working on] a 3D model called VITaL," Izarraras said. "When you have an anatomy class or a class like that, usually it's hard to grasp what's on paper. You can go into VITaL and work with 3D models of the heart or a skeleton. It's been really huge in the biology department … it's something I can see being really useful in other classes as well."
8. Understand that student well-being and mental health are priorities right now.
Many campuses have university outreach teams on hand to help counsel and advise students who are experiencing extra stress and anxiety due to the pandemic–everything from health and safety concerns, to financial stress brought on by loss of jobs or additional pressures from new home, work, or family responsibilities. These responsibilities often keep students from getting the most out of online learning experiences.
"Our professors try to keep in touch and help students as best they can," Gil Ortiz said.
"They've been very accommodating and genuinely care about the well-being of students," Adams said. "Sometimes students say they're having trouble getting assignments done because of a home or work situation, so they'll push back deadlines or rework assignments."
Empathy is key, although it isn't always present in the virtual classroom.
"Some professors haven't had an empathetic side," Izarraras said. "They don't always understand what comes with being at home in a pandemic."
9. Tap into student knowledge and expertise during online learning.
"We're teaching as if we're still in class," Izarraras said. "We're teaching students how to take exams and we aren't teaching them how to learn and grasp what they're learning. There needs to be a closer connection."
"I grew up being homeschooled … I grew up having an innate curiosity. Taking that to college has been really beneficial for me," Adams said. "I think being able to teach students to be more interested in learning just for learning's sake would be really beneficial versus having a professor stand in front of them and try to force knowledge down their throats."
"Your students are your best resources," Gil Ortiz said.
Latest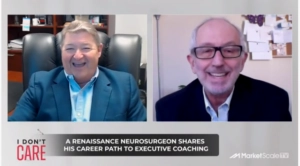 September 22, 2023
The healthcare industry grapples with an overload of information, patient safety concerns, and an increasingly digital landscape. This fact makes professionals who can bridge the gaps between various healthcare disciplines a precious commodity. In fact, according to the Healthcare Information and Management Systems Society (HIMSS), a lot of healthcare organizations and workers believe that […]
Read More