Applying Merrill's First Principles of Instruction with Max H. Cropper: Quicksilver
Problem-Centered Principle
Activation Principle
Demonstration Principle
Application Principle
Integration Principle
Collectively, these principles create one of the most effective instructional system design models for corporate learning. The principles put a high-emphasis on designing learning to get to the "doing" instead of having learners passively absorb knowledge.
"Really good instruction should be based on real-world tasks and real-world scenarios," Max said. "Ultimately, it's identifying within our situation, what is the best way to role out the demonstration, application, and integration of real-world tasks."
Convincing businesses that training requires a stronger skill set than most subject matter expert can be challenging. However, we don't need to look far to find some of the common instructional mistakes that The First Principles of Instruction aim to avoid:
The Fire Hose – where learners are blasted with content without instructional interaction
The Missing Link – where skills are described, but actual demonstration doesn't take place
The Remember What I Told You – where only surface or "remember-level" quizzing takes place without practice opportunities.
And, more…
Max said, "By guiding people directly into demonstrations and application, you've got them hooked… People talk about learning engagement [but] it's the real-world tasks that achieve engagement. If you pick the right tasks, the right scenarios, the right problems – the most important ones – then immediately you have engagement."
Intuitively, we know that we learn better by doing, yet so much of today's training still focuses on lecture, worksheets, and PowerPoint presentations. Organizations everywhere should be looking to their learning teams to apply The First Principle of Instruction and shift towards problem-centered learning.


Latest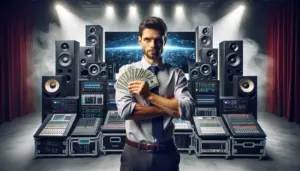 December 8, 2023
Mastering AV sales strategies in a global professional audio-visual (Pro AV) market, poised to reach $79.2 billion by 2028, requires much attention to detail. The surge in demand from corporate, government, and institutional sectors, driven by the need for enhanced productivity and efficient working environments, gives AV sales pros a lot of opportunity. In […]
Read More