The Business Case for VR in eLearning: Quicksilver
Learning and development inside businesses have evolved significantly with the power of technology. Many companies have experienced its benefits, specifically with virtual reality (VR). But how does VR really elevate eLearning, and what's the business case for it?
On today's video episode of Quicksilver: A Behind the Scenes Look at The eLearning Alchemist Podcast, host Clint Clarkson sits down Cortney Harding, CEO of Friends with Holograms, an award-winning company that leverages VR to develop immersive training experiences, has some answers. The company has worked with a variety of companies from Coca Cola and Horizon to the State of Indiana. 
"There is more and more evidence that VR is effective. The State of Indiana began using our program last year to train social workers, and I just learned that because of these efforts, their caseworker turnover rate has decreased by 18%," Cortney shared.
This is just one example of why the industry is exploding and expected to hit $1,478 million by 2027. However, many organizations worry about the investment. Cortney stated, "It doesn't have to be expensive. Yes, there's an upfront investment, but once you see the data and the ROI, the case becomes clearer."
That ROI could come in different channels from reducing recruiting costs because turnover is down to actually improving the performance and confidence of employees. If companies want to do more than check the box in training and empower their teams, VR is a strong candidate to do so. 
For the latest news, videos, and podcasts in the Education Technology Industry, be sure to subscribe to our industry publication.
Latest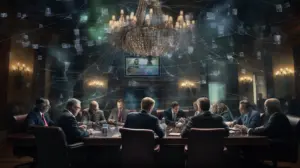 October 3, 2023
In August 2023, the National Institute of Standards of Technology (NIST) put out a request for comments on the Preliminary Update from the Internet of Things Federal Working Group (IoTFWG), which aims to provide the nation direction on how to improve IoT adoption and expand its use cases for the future of industrial, corporate, […]
Read More