Are School Boards Informed Enough to Make Security Choices
In a shocking turn of events, a recent school security contract decision has left many scratching their heads. The core question here is clear: Did the school board prioritize the right factors in their selection process?
Diving into this perplexing scenario, Mike Matranga and Mike Monsive provide eye-opening insights. Mike Matranga brings up a pivotal point: "ASAP Security is a certified dealer. Check the box. Utilizing local forces here in Houston, Texas. Check that box. Estimated time to complete the project was five hundred days."
This highlights a glaring discrepancy in the decision-making process. Why, when presented with a local, certified dealer with an excellent track record, did the board opt for a different path? This revelation challenges conventional wisdom, raising concerns about the factors that should truly matter in school security contracts.
The heart of this issue lies in the priorities of the school board. While the prevailing notion is to support local businesses and ensure quick and efficient servicing, this case appears to have deviated from that logic. As Mike Monsive rightly points out, "Not only do you want to keep things local, but when you call, you want them to say, 'I'll be there in thirty minutes,' not 'I'll be there in six hours or next week.'"
The decision to go with a non-certified, non-local vendor with a nearly three-year completion timeline and a questionable reputation rating begs the question: What were the decisive factors in awarding this contract?
Furthermore, the lack of transparency in the scoring process is cause for concern. The vendors and the school board members themselves are in the dark regarding how the winning vendor earned their 87 points versus the 69 awarded to the source, ASAP Security.
This school security contract controversy underscores the importance of clarity, accountability, and aligning priorities in such critical decisions. It has left the community reeling and serves as a stark reminder that transparency and sound judgment should be at the forefront of any school board's decision-making process.
Latest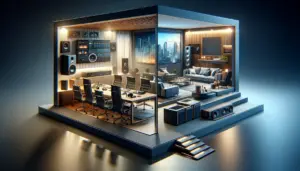 November 27, 2023
In this episode of "Pro AV Today," host Ben Thomas sits down with Audra Kinsley of Sonos Professional to unpack a topic that's causing (sound) waves in the audio industry: the fusion of commercial and residential audio systems. As we navigate through a landscape where consumer and professional audio worlds are increasingly intersecting, Sonos steps […]
Read More