Author Pete Hall Discusses the Impact Self-Reflection has on Creating a Positive Environment
Returning guest Pete Hall, executive director of educationhall.com and author of YA novel Chasing the Show, joins hosts Ron Stefanski and Dr. Ceasar Mickens to talk about his new book and the valuable lessons of communication and empathy between parents, coaches, and kids.
While Hall's other books focus on lessons of self-reflection, this story takes on a new approach: "How do I navigate what my life is going to be?," said Hall. To create an audience receptive to learning while also engaged in the story, Hall focused on figuring out what people wanted most, "Part of the motivation beyond writing it was to build connections," he said.
Schools today are trying to figure out the metric for success and part of that equation needs to be building connections. The human need for interaction was reflected sharply in the pandemic-era remoteness and isolating digital aspect, taking a toll on many people's mental health. When Hall's friend returned to the office, one of the reasons he stated was, "'I miss interacting with human beings,'" said Hall.
The book is reflective of those human connections, "It's a young adult novel…It follows the rises and falls of that dream [of an athlete]," explained Hall, "As the story unfolds, it also follows the interactions between the kid and his parents, the kid and his classmates and teammates, the kid and one of his teachers in particular, the parents and their friends who are school psychologists." The book is aimed at explaining the importance of providing and nurturing support for his goals while also communicating effectively and developing a "Plan B" in case Plan A does not pan out.
Not only does Chasing the Show help facilitate conversations between parents and kids, but it's an important tool for learning how to communicate effectively. A lot of kids "don't have the skills and knowledge to go and talk to their coach…" said Hall, this book aims to disrupt that.
More Stories Like This:
Latest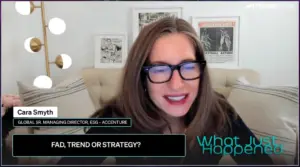 November 30, 2023
The world is in an era where sustainability and responsible retail business practices are increasingly crucial. For the latest episode of "What Just Happened," host Christine Russo further explored the hows and whys of this pressing issue by interviewing Cara Smyth, Global Senior Managing Director for ESG and Responsible Retail at Accenture, and Chair […]
Read More