Beyond the Classroom: Educational Reform in a Post-Pandemic World
Although no one can argue that the COVID-19 pandemic has set back education and student learning for months, if not years, there is still some good that has come out of our current situation. Now, educators better understand how to implement new technology into their lessons and how to better help students that may require different needs.
These innovations give today's teachers a new mission: innovate in ways that prepare students for their future, not our past.
As host Tom Watkins put it, "Going back to our normal before the pandemic is unacceptable." We must use technology and other modalities to personalize learning for our students as if our collective future depends on it – because it does.
Joining him on the podcast today is an educator with similar sentiments: Dave Strudwick.
Strudwick has a career of working on subjects like learning reform and project-based education across four continents, before coming into his current leadership role at REAL School in Budapest, Hungary.
However, a career in education wasn't his original goal. As he tells Watkins, he was actually an aspiring athlete in college and chose an education degree because it was longer than other ones.
He soon stumbled upon people that started him on his current career path, going on to work in various advisory and leadership roles. Strudwick especially loved being able to work in different countries, which allowed him to "understand the uniqueness of each individual child's approach to learning."
"By pushing yourself into the experiences and working with new and different people in different countries, you really get a chance to really see that and build your repertoire and then support other people with that," he said.
For the latest innovations, services, programs and people that are changing the face of education, subscribe to the Beyond the Classroom podcast on Apple Podcasts and Spotify. There, you'll get notifications when the latest episodes from Centric Learning go live.
Latest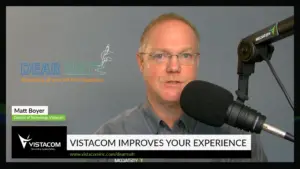 December 11, 2023
In a time when the AV industry supply chain faces unprecedented challenges, understanding its current status and future trajectory is crucial. In this week's segment of "Dear Matt," presented by Vistacom, host Matt Boyer, the Director of Technology at Vistacom, brings his over 30 years of experience in the audiovisual industry to the status […]
Read More