Big EdTech Deals For The Week of May 8
Another signal that the edTech is making moves to help schools during the COVID pandemic—strategic partnerships.
Turnitin and NewsGuard this week announced a move that will help many millions of students and teachers spot and avoid misinformation, improve their research abilities, and develop critical media literacy skills. Turnitin users now have free access to NewsGuard's browser extension and mobile apps, enabling them to read NewsGuard's credibility ratings and detailed "Nutrition Label" reviews that provide background and context about the reliability of online sources. 

"Now more than ever during the COVID-19 pandemic it is critical that students and educators can rely on accurate information from their sources," said Valerie Schreiner, Chief Product Officer at Turnitin. "Turnitin has always been committed to promoting integrity in research and writing. By working with NewsGuard, we now deepen that commitment by also offering our students and teachers a tool to help evaluate the integrity of the sources they are using. Our services are a perfect match."
"We, too, see this as a perfect match," said Gordon Crovitz, co-CEO of NewsGuard. "From the start, our mission has been to help people tell the difference between trustworthy sources and the many online sources that have hidden agendas, publish misinformation, or exist to promote hoaxes. We have heard from many teachers how valuable NewsGuard has been to help students in their research and writing find sources that publish with accuracy and integrity and to stay away from the others. To be able to provide that information to Turnitin's millions of students and teachers is a tremendously important milestone in advancing that mission."
NewsGuard recently temporarily removed the paywall for its browser extension, which costs $2.95 per month, in response to the "Infodemic" of misinformation that has proliferated in tandem with the spread of the COVID-19 pandemic. To use the tool for free now until July 1, 2020 visit https://www.newsguardtech.com/turnitin/. After July 1, schools and universities that use Turnitin will have free access codes allowing students and faculty to continue using NewsGuard at no cost until the end of 2020, with the option to extend free access until the end of the school year in 2021.
Swing Education, a staffing application for substitute teachers, has partnered with Outschool to help provide its substitute teachers, who are currently seeing a downturn in demand due to school closures, with flexible job opportunities that take advantage of their teaching skills. Through the partnership, substitute teachers can sign up to teach as self-employed, independent educators, and offer live online classes which parents register their children in for a small fee. Outschool is also making classes free for families with limited disposable income in the wake of COVID-19.

"This partnership enables us to help Outschool fill its teacher pipeline with highly-qualified and vetted teachers so that students can keep learning while school is closed, while at the same time assisting our talented substitute teachers in finding work during these challenging times," said Mike Teng, CEO of Swing Education. "Despite the circumstances, we believe this will be a win-win for all involved."
Outschool, which is currently looking to add 5,000 teachers to meet a growing demand for online at-home learning, is an educational marketplace offering live online classes for students ages 3-18. Classes take place in small groups over video chat and are facilitated by independent teachers who create their own classes on topics they're passionate about—from reading to the arts to science and more. The teachers control their hours, class format, and rates for their classes. All Swing substitutes who sign up will receive an additional bonus once their first class gets approved and published.
"Over the past few weeks with schools across the country closed, Outschool has seen more and more families signing up for our live video chat classes as they seek ways to keep their children engaged and inspired," said Amir Nathoo, CEO of Outschool. "With this increased demand we are constantly adding new classes and we are excited to partner with Swing Education to ensure we continue to provide high-quality teachers and classes for families who are turning to us during this crisis.
HRCI, the premier HR credentialing and learning organization, has partnered with edtech firm MindEdge Learning to provide an extensive offering of online courses that support professional development in various aspects of strategic business management.
"HRCI is excited to collaborate with MindEdge to develop world class products and a powerful new way for HR professionals to upskill their HR knowledge. Our new offerings provide today's professionals with affordable, timely and engaging on-demand learning options," said Dr. Amy Dufrane, SPHR, CAE, HRCI Chief Executive Officer.

The comprehensive online learning catalog, powered by MindEdge, also includes self-paced test prep courses for HRCIcertifications, including the Associate Professional in Human Resources™ (aPHR) and Professional in Human Resources® (PHR).In Spring 2020, an online course will be introduced for the Senior Professional in Human Resources (SPHR). All courses offer review materials, video commentary and sample test questions designed to support candidate success with certification exams.

As part of the collaboration with MindEdge, HRCI is launching a series of online courses covering ethics issues in the HR profession, as well as ten courses addressing timely HR topics, including promoting employee well-being, pay equity, creating diversity and inclusion, recruiting multi-generational employees, marijuana and the workplace, and classifying employees and independent contractors. The topical courses will include video commentary from HR practitioners and legal experts."We welcome the opportunity to collaborate with the HRCI," said Jefferson Flanders, CEO of MindEdge. "HRCI is known for its commitment to quality human resources education and we're excited about broadly extending that effort through additional online courses."
The online program can be accessed through the HRCI website and MindEdge's Expanded Content Network (ECN), which includes professional development and continuing education partners. For more information, please visit www.hrci.org.  
Latest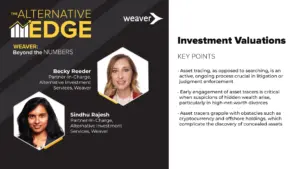 December 4, 2023
In this episode of The Alternative Edge, a Weaver: Beyond the Numbers Podcast, host Becky Reeder, an audit partner and co-leader of the alternative investments practice at Weaver, engages with Sindhu Rajesh, an Alternative Investment Services Partner with Weaver. They unpack the complexities of venture fund valuations, offering critical insights into industry dynamics and best […]
Read More