3 Big EdTech Deals Of The Week (May 28, 2020)
Top Hat, the leading active learning platform for higher education, announced it is acquiring more than 400 higher education textbook titles published by Nelson, Canada's largest educational publisher. Top Hat will convert these print-only titles into digital courseware on its platform and infuse them with interactive elements, enabling educators to bring active learning to life for their students. The acquisition will transform the Canadian higher education publishing landscape, positioning Top Hat as a leading player in the industry. Facing the uncertainty of the upcoming school year caused by the COVID-19 pandemic, educators who adopt these titles on the Top Hat platform will have the flexibility to deliver their courses effectively and motivate their students in any teaching environment, whether online or in-person, synchronous or asynchronous.
"As the world has moved online and information is available in real-time, educators have faced a growing challenge convincing students of the value and relevance of print textbooks," said Mike Silagadze, founder and CEO, Top Hat. "The COVID-19 crisis of the past few months, and the subsequent closure of on-campus facilities and bookstores, has exacerbated the situation as many students have had challenges accessing these course materials. Through this acquisition, Top Hat will ensure students have access to engaging, high-quality course materials no matter how courses are delivered, with the added benefit of proven active learning technology that uplevels the learning experience."
"Nelson's collaboration with Top Hat will ensure students have access to high-quality, trusted content delivered on a world-class learning platform suited to meet the needs of our new normal," said Steve Brown, CEO, Nelson. "Enabling student success is at the core of everything we do. We believe this transition will enable students and faculty to successfully continue their learning journey as we prepare for the 2020-21 school year."
Global early childhood science learning provider, Kide Science, has secured €1.5m funding in a seed round led by Sparkmind.vc. Selected existing investors including Zanichelli Venture also participated. Kide Science has now raised a total of €2.4m since launching at the end of 2017. This investment is the third from Sparkmind.vc's €40m learning-focused venture capital fund.
The investment is focused on accelerating Kide Science's international growth. It will enable the business to pursue new opportunities in Asia and across key international homeschooling markets. The investment will also allow rapid expansion of the company's existing parent product as well as funding key hires in global business development and marketing.
Sari Hurme-Mehtälä, Kide Science's CEO commented: "We're excited that this new investment allows us to rapidly scale our global sales and marketing activities. This will help us teach key science skills to even more children globally, enabling them to better understand their world. Being purely learning sector focused Sparkmind.vc is an ideal partner for us and we look forward to working with them."
Kide Science has created a playful STEAM (Science, Technology, Engineering, Art and Maths) pedagogical model, following rigorous research by one of the company's Founders at the University of Helsinki. Their approach puts young learners into imaginary science scenarios, empowering them to solve real problems through story-telling and play-based activities. Teachers and parents can easily deliver these in formal/informal learning settings, including at home, to support children's curiosity and scientific thinking.
Kai Talas of Sparkmind.vc continued: "We see early childhood education as a highly attractive market segment with significant growth prospects and lucrative opportunities for scalable solution providers like Kide Science. For Sparkmind, Kide Science stands out because of its very strong pedagogical proposition and outstanding multidisciplinary team. We're excited to lead this seed round and to build on the significant momentum the company has already generated."
Discovery Education—the global leader in standards-aligned digital curriculum resources, engaging content, and professional learning for K-12 classrooms—and Clever—the most widely used single sign-on (SSO) portal in K–12 schools nationwide, announced an expansion of their partnership.  In this latest phase of the companies' collaboration, more K-12 school systems nationwide using Clever are now able to integrate Discovery Education's services into their existing portals and enable single sign-on (SSO) access to these resources.
The integration of Discovery Education's digital resources into Clever provides educators even easier access to award-winning services such as Discovery Education Experience, STEM Connect, and the Science, Social Studies, and Math Techbooks, and saves teachers valuable prep time they can now spend with students. This collaboration also enhances the student experience with Discovery Education's services by quickly connecting them to the digital resources they need to take learning beyond the classroom and into the real world.
 "Discovery Education's expanded partnership with Clever ultimately benefits our partner school systems, educators, and the students they serve," said Discovery Education Chief Product Officer Pete Weir.  "The integration of our services into Clever portals positions school systems to maximize the return on their content investment and simplifies teachers' and students' access to rich digital resources that support academic achievement."
 "Discovery Education is recognized worldwide for their immersive digital content and dynamic professional learning, and we are excited to deepen our relationship," said Tyler Bosmeny, Chief Executive Officer of Clever. "Together, we're making it easier than ever for students and teachers nationwide to experience the joy of discovery, wherever learning is taking place."
Latest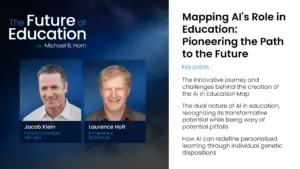 October 2, 2023
Mapping AI's role in education should be a critical step in bringing together innovative technology-based solutions with the expertise of human educators. With rapid advancements in artificial intelligence and an increased reliance on technology-driven educational solutions, the education landscape is on the brink of a significant transformation. AI promises highly personalized learning experiences, efficient administrative […]
Read More