Building High-Performing Volunteers: The Importance of 1-on-1 Training and Advanced Concepts
Key Points:
To build high-performing volunteers, 1-on-1 training and introducing advanced concepts are key. 

This reinforces basic principles and expands knowledge, leading to better outcomes for the organization. 

Invest in volunteer training today.
Summary:
Building on foundational knowledge and skills is crucial for high-performing volunteers. After mastering the basics, volunteers should receive 1 on 1 training to expand their knowledge and improve their skill sets. This allows them to ask more specific questions and gain deeper insights into best practices and concepts related to their area of expertise.
For instance, a high-performing camera operator who polish his expertise 10 minutes before show has more knowledge about advanced camera techniques such as focus, macro shots, and creative zooming than a traditional camera operator who didn't focus on advancement.  Similarly, spending time with audio engineering staff to learn about best practices of EQ, compression, and digital audio effects to troubleshoot and better mix voices to enhance expertise. 
While 1 on 1 training is effective, organic opportunities to introduce advanced concepts should also be sought. Reinforcing basic principles while teaching advanced concepts can help volunteers develop a deeper understanding of their field. Building on the basics and seeking opportunities to introduce advanced concepts is key to developing high-performing volunteers.
By offering more in-depth training, organizations can nurture the skills of their most talented volunteers, which helps them to rise to the top and produce exceptional results. In addition, it creates a positive and supportive work environment, which is crucial for retaining skilled volunteers.
Overall, investing in the professional development of volunteers through advanced training is a valuable strategy for organizations. It enables volunteers to gain a deeper understanding of their area of expertise and perform at their best, ultimately leading to better outcomes for the organization.
Latest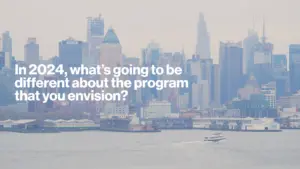 December 1, 2023
In the dynamic telecommunications landscape, Verizon's Partner Network continues to evolve, adapting to new trends and opportunities. For another segment featuring Mark Tina, VP of Indirect Channel Distribution and Channel Chief at Verizon Business Group, he explores exactly what types of significant changes and advancements the Verizon Partner Network will see in 2024. In this […]
Read More