How Campus and School District IT Leaders can Thrive in the Post-COVID Era
This school year is unlike any other. More than 90 percent of households with school-age children are engaged in some form of distance learning from home, while college students are navigating a variety of hybrid remote learning environments. These new learning environments present challenges for educators and school IT leaders alike.
As educational institutions of all sizes are weighing how to keep students engaged while also ensuring their safety, IT departments are faced with a difficult task – how to keep operations running regardless of the learning environment.
Supporting students in the age of remote learning
Today's K-12 and higher education students were born in the internet era and are able to easily adapt to new modes of communication and learning. Knowing this, educational institutions must prioritize investment of remote learning technologies that can keep up with students' abilities and needs. Providing students with this seamless learning environment is dependent on teachers having reliable access to institutional networks from home and the classroom.
Desktop as a Service (DaaS) and virtual desktop infrastructure (VDI) solutions enable application access on any device, granting teachers full access to their network regardless of their location. Further, onboarding the technology onto individual laptops takes minutes, instead of hours or days. This ensures that, should there be any additional academic disruptions, schools can swiftly update their hybrid learning model accordingly, without any negative impact on the academic calendar.
Ensuring security
Educational institutions are sitting on a wealth of sensitive information, from student data to intellectual property and research. According to a study from SecurityScorecard, the education industry has the worst cybersecurity vulnerability of 17 sectors in the U.S., and the increased reliance on digital technologies in the wake of COVID-19 presents further concern.
With teachers and students working remotely, DaaS also provides the layer of security needed to protect educational networks. While the solution runs on personal computers, which have a reputation of causing end-point security issues, DaaS operates as a completely separate application, creating a controlled and secure environment independent of remote workers' personal activity and weak points within their individual networks.
Managing costs
Enabling remote learning and teaching requires unanticipated expenses at a time where many educational institutions are grappling with tight budgets and reduced revenue streams. When looking to alter IT budgets to enable remote learning effectively while also saving costs, IT leaders should look towards their current cloud models.
Public cloud has remained popular across industries, and a new study found that 57 percent of education sector respondents have increased their investments in public cloud services as a result of the pandemic. While the investment is growing, public cloud has been known to cause budget overages, which is problematic during this time of economic uncertainty. With this in mind, regardless of the model educational institutions currently rely on, IT leaders must evaluate which makes the most sense for their applications in a post COVID-19 world – and the answer may not live within public or private clouds alone.
According to a recent study, 77 percent of public sector IT leaders believe a hybrid IT model is the most effective approach for public sector organizations. With this in mind, investing in a hybrid cloud solution is a way educational institutions can control their spending while also having the flexibility to choose the rig ht workload for each application. The increased flexibility, and potential cost savings, associated with hybrid cloud will allow educational institutions to support their teachers and students as they grapple with the disruption created by COVID-19.
Driving towards the new normal
The future of education is unknown, and the success rate of hybrid and remote education models have yet to be seen. However, as educational institutions look to adapt towards the new normal, they must continue to deliver rich, immersive experiences that hold students' attention, and guide their progress. Technologies like VDI and DaaS, as well as cost-effective cloud models will be necessary to provide learning environments remotely to all end-user devices, ensuring that our future leaders will have the same academic experience as the generations before them – regardless of physical location.
—
Follow us on social media for more Education Technology updates!
Twitter – @MarketScale
Facebook – facebook.com/marketscale
LinkedIn – linkedin.com/company/marketscale
Latest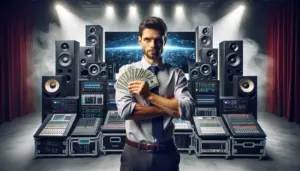 December 8, 2023
Mastering AV sales strategies in a global professional audio-visual (Pro AV) market, poised to reach $79.2 billion by 2028, requires much attention to detail. The surge in demand from corporate, government, and institutional sectors, driven by the need for enhanced productivity and efficient working environments, gives AV sales pros a lot of opportunity. In […]
Read More