Can American EdTech Companies Keep Pace with India?
Key Points:
A shift from in-person learning to remote learning has changed education dramatically which has impacted 1.2 billion students worldwide.
The COVID-19 pandemic has been a catalyst for the global edtech boom.
The edtech market in India is expected to grow from $700 million to $30 billion within the next decade.
Commentary:
The edtech industry has seen a huge surge in growth, especially in India. One online tutoring firm, Vedantu, recently went from being valued at $600 million to $1 billion, just one example of the Indian edtech market drawing capital attention. Because of this COVID-induced shift to education workflows and the market during the pandemic, MarketScale asked Dr. Dean Cantu, Associate Dean of Education at Bradley University: How effective is the free-to paid pipeline for retaining online learning students on an edtech platform?
Abridged Thoughts:
Over the course of the past year and a half, we've experienced an unprecedented global shift from in-person teaching and learning to online instruction and remote learning, which has changed education both dramatically and indelibly.
This change has occurred on a scale that has never been witnessed before, impacting 1.2 billion plus students in over 190 countries across the globe. In addition to transforming education, the COVID 19 pandemic has also served as a catalyst for a global EdTech boom that was long overdue
Indeed, one researcher has referred to this as Education's Netflix moment. Evidence of this transformation can be found in the investment of venture capital and EdTech companies, which is accelerated at an unprecedented pace that is currently on track to grow nearly 20% annually through 2028. The combination of this pedagogical pivot to online education, combined with advances in digital technology, has the potential, according to a 2020 Microsoft position paper, to truly transform education.
One of the drivers for this transformation is EdTech, which, according to one researcher, has been placed at the head of the class. Examples range from distance learning management systems, for example, class Dojo and seesaw, and self-directed learning content such as Khan Academy and Quizlet to tools for creating digital learning content like thing link and Nearpod and collaboration platforms that support live video communication, such as Zoom and Microsoft Teams. It takes role in helping to define the teaching and learning environment of the 21st century has never been greater.
Latest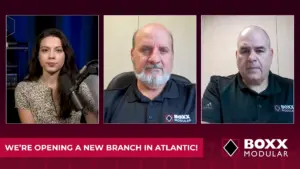 December 4, 2023
In an era where construction innovation is reshaping the industry, modular construction's growth continues to rise. In this episode of Built Modular, Boxx Modular's strategic expansion into Moncton, Atlantic Canada takes center stage. Host Gabrielle Bejarano welcomes Charles Landry and Ray Girouard to explore the implications of this venture. Bejarano, Landry, and Girouard discuss […]
Read More