Change Starts Here: Overcoming Trauma with Derek Clark
Key Insights:
The power of connection is invaluable in overcoming trauma.
Students need to know that someone is listening.
Teachers can inspire greatness and courage in others.
It isn't every day you meet someone with a story like Derek Clark's. Overcoming years of abuse and neglect in a failing system, Clark's story has inspired hope in millions around the world. Clark sits down with Dustin Odham, host of Change Starts Here to share his journey and reflect on the power teachers have to change a life.  
As an author and Childhood Trauma Motivational Speaker, Clark now considers himself a "hope dealer." But this wasn't always the case.  
"I didn't grow up on love, affection, a wonderful mom and dad that just loved on me. I grew up on survival," reflected Clark, "Over the years, I learned how to turn nothing into something." 
After attempts to kill Clark failed, Clark was brought into the world with an imprisoned biological father and a mother unfit to raise a child.  
Brutally abused until the age of five by his birth parents, Clark was abandoned by those same parents at a psychiatric hospital, where the facility ultimately placed him in a shelter "for unadoptable kids".  
On this, Clark said, "…Every kid is adoptable…Every kid deserves love. Every kid deserves a family." Despite his own trauma, Clark knew this cycle of abuse had to end with him. He said, "But I had to make sure that I was going to be conscious and intentional when I was an adult to pass on generational blessings to my kids and not generational cycles or generational curses." 
Clark did not know how to read or write until he was eight or nine years old, did not know how to speak at a level commensurate to his age, and could not walk the steps alone or run until he was seven. Given the abuse he faced and the labels given to him, Clark went through a series of foster homes in the area and was given one more chance to find a family before the state would take him to another facility.  
After a failed attempt to run away, Clark found a family willing to work with him: two teachers. "What helped me was those two educators, those two teachers, and permanency," said Clark. With patience and courage, these two educators transformed Clark's life, while providing a creative outlet for Clark to excel.  
What made a difference for Clark was this connection to people. Since then, the number one complaint amongst students Clark has surveyed is that they feel unheard.  
"I've learned that the power of connection is meeting them where they're at, listening, acknowledging, validating, and being that positive modeling adult," said Clark. This means that coming to school can be and should be a safe place for those who feel unheard.  
Latest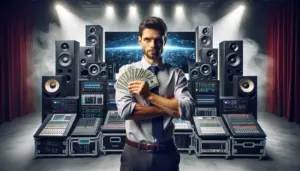 December 8, 2023
Mastering AV sales strategies in a global professional audio-visual (Pro AV) market, poised to reach $79.2 billion by 2028, requires much attention to detail. The surge in demand from corporate, government, and institutional sectors, driven by the need for enhanced productivity and efficient working environments, gives AV sales pros a lot of opportunity. In […]
Read More