Change Starts Here: Together Is Better
The last few years of the COVID-19 pandemic emphasized how important community and togetherness are. While being alone and on your own has its upsides, so does being and engaging with others. It's something that people who travel a lot might also recognize when they attend events that bring groups together.
On this episode of Change Starts Here, host Dustin Odham talks about this topic by talking on his own about his recent travels to symposiums in different cities across the USA. While understanding the importance of being on your own, he saw and felt firsthand how great it is to be in the presence of others and how these different groups make you feel incredibly welcomed. As Dustin says it, "We need to be in community. We are created to be in community."
The travels had Dustin go to symposiums in Tampa, Las Vegas, Dallas, and even San Diego, the latter with his wife. The different trips showed him how all these groups he works with are a vital piece of everything they do. "I was blown away by the energy, the love, the creativity that was ignited just by being in the presence of others" says Dustin, proving how healthy and exciting it is to be together. In essence, the group dynamic and the togetherness is necessary for everything to work as well as it does.
You can hear more about togetherness from Dustin on this episode, where he also talks about students he worked with and how they overcame stage fright in another moment that wowed our host.
Key Points:
-Symposiums were a great opportunity to interact with teams of people.
-Physical presence of others goes a long way, mentally and for work.
-Being alone is good, but being together with others is vital.
Latest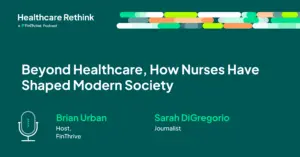 December 4, 2023
Nurses Have Shaped Modern Society beyond healthcare to stand as pivotal figures that transcend their traditional roles, influencing the broader spectrum of societal change. Healthcare Rethink, a FinThrive podcast hosted by Brian Urban, welcomes Sarah DiGregorio, Journalist, Author, and Speake,r to discuss her second book, "Taking Care: The Story of Nursing and Its Power […]
Read More