CHLOE 5: The Pivot to Remote Teaching in Spring 2020 and Its Impact
In response to this year's unprecedented shift to remote learning, Quality Matters and Eduventures Research issued a special edition of the annual Changing Landscape of Online Education (CHLOE) Survey. CHLOE 5: A Special Pandemic Survey was administered to 308 chief online officers (COO) representing 2- and 4-year public, private and for-profit institutions.
The results — available in CHLOE 5: The Pivot to Remote Teaching in Spring 2020 and Its Impact — send a strong message. While many colleges and universities are announcing a return to campus for the fall, COOs know that forms of remote learning will play a major role in a socially distanced student experience. Over 80% of COOs are working on specific improvement to remote learning plans, including conversion to true online learning:
Thirteen percent improving remote instruction courses that need it
Thirty-five percent planning incremental improvement for all remote instruction courses
Eighteen percent gradually converting remote instruction courses to fully online learning
Seventeen percent converting all remote instruction courses to fully online learning
Only four percent of respondents indicated that their priority is returning to conventional in-person instruction as soon as feasible.
The report also provides insight into the successes, challenges and priorities for quality improvement related to remote learning, including the tools and technologies deployed.
Despite widely observed deficiencies in remote courses as compared to fully online courses, schools with greater online learning experience were more likely to be positive about the logistics and perceived success of spring remote learning.
According to Richard Garrett, Eduventures Chief Research Officer and co-lead of the project, "The biggest challenge institutions faced was a lack of preparation — with many institutions reporting that neither faculty nor students were prepared for the sudden, unexpected pivot. Time was another issue. The need for academic continuity allowed for only a cursory conversion of courses."
"While chief online officers acknowledge specific challenges, the majority portray a largely positive view of online learning in the wake of the pandemic crisis. Many also expressed optimism about the future of online learning, which should reassure the online community that some benefit will come from their hard work in these perilous times," said Ron Legon, QM Executive Director Emeritus and co-lead of the CHLOE project.
As institutions look ahead and plan for the possibility that remote instruction or expanded online learning will continue into fall 2020 and beyond, COOs are outlining their priorities, which include:
Providing enhanced faculty development and training
Employing common tools and technologies
Setting minimum expectations for faculty-student interaction
"The CHLOE Report is the only publicly available resource that provides an unfiltered view of the online learning landscape through the lens of today's higher education decision makers," said Brad Gibbs, Chief Growth Officer at Archer Education, a CHLOE 5 platinum sponsor. "In our charter to accelerate growth for our partner institutions, Archer relies on the report for guidance in developing innovative marketing and enrollment services and strategies that align with the top opportunities and trends impacting today's colleges and universities."
This report was made possible through the support of platinum sponsors iDesign and Archer Education.
The principal authors of the report are Richard Garrett (Eduventures Research) and Ron Legon (Quality Matters) with contributing editors Eric Fredericksen (University of Rochester) and Bethany Simunich (Quality Matters).
Latest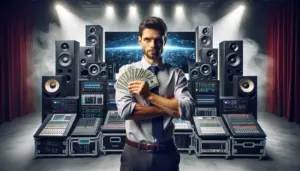 December 8, 2023
Mastering AV sales strategies in a global professional audio-visual (Pro AV) market, poised to reach $79.2 billion by 2028, requires much attention to detail. The surge in demand from corporate, government, and institutional sectors, driven by the need for enhanced productivity and efficient working environments, gives AV sales pros a lot of opportunity. In […]
Read More