Strengthening Classroom Community with Movie Making
I've had the pleasure of working with this company. All opinions are my own.
Whether it's the beginning, middle or end of the school year, it's always a wonderful time to share stories! At the start of the school year, students can introduce themselves to their classmates while learning how to navigate new digital platforms. An "all about me" activity is a great option for helping build your classroom community. At the same time students can explore how to share information through multimedia.
Spark Video for Student Creators
If you haven't heard of Adobe Spark before, it is a powerful creation tool that is totally free for teachers. Ben Forta and I wrote a book called 40 Ways to Inject Creativity in the Classroom with Adobe Spark. It includes lots of ways to use the three Spark tools in the classroom. Spark Page is a website building tool and Spark Post is a graphic design tool. In this blog post we'll discuss Spark Video is a moviemaking tool. Ben made three fantastic quick start guides to show you each tool in action. You can watch them all here.
Spark for Education is a special version of Spark that schools can set up and use for free. Students using Spark for Education have access to customized branding. They can use all three Spark tools on the web browser of their computer or Chromebook, or with the iOS app.
All About Me Videos
As you're reviewing your goals for the start of the school year, you may want to introduce or review digital platforms for students. At the same time, you can help students share a bit about themselves. This can include their interests and goals for the school year. Students can create an All About Me video using Spark Video and post it in Google Classroom, Seesaw, or any place you want students to practice sharing their work.
Spark Video is an open-ended creation tool so there isn't just one way to use it. For All About Me videos, you might set up a clear structure for students. Or you can give them a lot of flexibility in how they use the tool.
An "All About Me" video is perfect for a teacher creation too, and your movie can act as an exemplar for students. You might first create a video to share with students and families to introduce yourself to your class. Students can use your "All About Me" creation as an example for their own movie to share their stories with classmates.
Classroom Community Activity
Spark Video is my go-to movie-making tool for classrooms. It works with iPads, Chromebooks or any device with access to a web browser. With this website and mobile app, students can record their voice, add icons, images and video. And students can combine it with music to create a movie. Just like a teacher-created "All About Me" video posted to Google Classroom, Schoology, or Blackboard, students can save their creations as a video file. They also have the option to publish it on the web to a live link.
I created a handful of graphic organizers to use with Spark Video you can download here. You might use these to guide student creators as they make their own "All About Me" video. The graphic organizers can help students  brainstorm as a whole class what you could include in this type of creation. This type of video could include icons that represent a student's favorite place to visit or favorite food to eat.
Students might also use the search tool within Spark Video. Alternatively they can use the upload feature to add images related to their hopes and dreams.
Looking to energize a space often used for a syllabus or course info? Try creating an "All About Me" movie with Spark Video to share with your students in Google Classroom and use this as inspiration for your own class activity!
Outlining an All About Me Video
You can tailor this project to any group of students and this activity is perfect for integrating other skills like how to do a keyword search, or how to use a headset and microphone. You'll want to customize this project for your group of students. Here are a few things to consider:
Ask students to brainstorm keywords they can use to search for icons or images for their movie. Here are more tips of keyword searches.
Encourage students to play their video for a classmate throughout the creation process and ask for feedback.
Provide a graphic organizer that lets students jot down ideas and sequence their thoughts. Download these free graphic organizers!
Show off the music options to students and discuss how music helps a video creator connect with their audience.
Encourage students to change the theme to align with the tone of their video so it has a personal touch.
All About Me activities are perfect for the beginning of the school year if one of your goals is to help students build community in your classroom. You can connect this project to other beginning fo the year goals around navigating new online spaces, using speaking and listening skills and even digital citizenship. Students can share their creations with classmates, practice how to leave productive comments and have video to return to at the end of the school year!
You can find an activity that goes along with this blog post in our book, 40 Ways to Inject Creativity in the Classroom with Adobe Spark. If you have student creations to share, make sure to use the hashtag #createedu to show off these "all about me" videos. These student creations can help build classroom community this school year!
***
This article was written by Monica Burns, Ed.D., and originally published on ClassTechTips.com. Monica is the author of Tasks Before Apps and host of Easy EdTech Podcast. You can follow her work on Instagram and Twitter @ClassTechTips.
---
For the latest news, videos, and podcasts in the Education Technology Industry, be sure to subscribe to our industry publication.
Follow MarketScale on social media for the latest updates in B2B!
Twitter – @MarketScale
Facebook – facebook.com/marketscale
Ed Tech LinkedIn Market Leaders – https://www.linkedin.com/groups/12273301/
Latest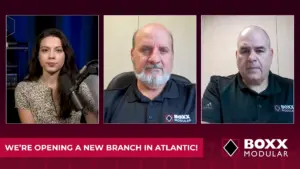 December 4, 2023
In an era where construction innovation is reshaping the industry, modular construction's growth continues to rise. In this episode of Built Modular, Boxx Modular's strategic expansion into Moncton, Atlantic Canada takes center stage. Host Gabrielle Bejarano welcomes Charles Landry and Ray Girouard to explore the implications of this venture. Bejarano, Landry, and Girouard discuss […]
Read More