Practical Self-Care Tips and Apps for Teachers
What does self-care look like in your life? Self-care is more than use a buzzword or a hashtag to add to a social media post. With purposeful planning, you can take action to make sure you address your own needs this school year. In this blog post, I've put together a handful of self-care apps, as well as an interview with Tina H. Boogren. She is the author of 180 Days of Self-Care for Busy Educators (A 36-Week Plan of Low-Cost Self-Care for Teachers and Educators). This book is full of self-care tips for teachers.
Self-Care Apps for Teachers
In episode 17 of the Easy EdTech Podcast, "Must-Have Productivity Tools for Teachers," I share a few apps that fall into the self-care category. One app is called Forest — like a forest full of trees. It is super helpful when I have a bunch of emails to answer or a distracting to-do list. This app lets you set a timer with a visual of a tree. As the timer moves, the tree will grow. It's kind of like a reverse hour class. It might be a useful tool to give yourself permission to stay focused on just one thing (or nothing!) for a set amount of time.
You might also want to take a look at Pocket Yoga. This app is one I often use on my phone when traveling, but I also have it on my AppleTV. I can open it up on either device when I want a quick stretching activity (or a more thorough workout). There are other self-care apps for breathing practice and meditation you may wish to explore.
Although this blog post and the resource 180 Days of Self-Care for Busy Educators is for teachers, you may want to check out the app Calm. They have free resources tailored to classroom use. This resource includes a PDF guide on Introducing Mindfulness To Schools you can check out right now. You'll also want to keep their Calm Schools Initiative in mind even though they've paused taking new subscribers.
Self-Care Tips for Teachers
The team at Solution Tree has been kind enough to send along a selection of new titles this year. If you follow along on Instagram, you'll see that I love hosting book giveaways and have a few planned for upcoming months. As soon as 180 Days of Self-Care for Busy Educators arrived in my mailbox, I was excited to dive in. Tina H. Boogren is the author of this collection of actionable self-care tips for teachers. I love how she organizes the content in this book to make it easy to take action right away.
Tina answered a few of my questions about her book, and I'm excited to share her responses with you in this blog post. At the bottom of the blog post, I'll share more about how to connect with Tina and learn more about her work!
180 Days of Self-Care
What motivated you to write a book on this topic?
After publishing my first book on this topic, Take Time for You: Self-Care Action Plans for Educators, I continued to explore the latest research around wellness, happiness, and health, while continuing to fine-tune my own self-care work. As I discovered new ideas and strategies, I started referring them as 'self-care hacks' and sharing them with educators as bite-sized ideas to play with, knowing that small changes can actually lead to amazing results. After gathering up all these new strategies and ideas, I started thinking about how different strategies seem to connect with different times of the school year. 
Thus, I identified the four seasons of the school year (The Season of Sacrifice, The Season of Disillusionment, The Season of Finding Balance, and The Season of Finishing Strong) and I matched up the strategies, thus creating a do-able guide that educators can use to support their health and wellness, one day at a time. This book is meant to be practical, low-cost to no-cost, and fun!
How have you seen conversations on self-care change over the past few years?
Yes, absolutely. There's been a huge surge for requests for workshops on this topic, and I'm noticing more and more professional development focused on supporting educators in ways that we've never talked about before. I believe we're starting to finally understand the importance of securing our own oxygen masks before we can fully support our students. 
Technology and Creativity
How can an educator use technology tools in their self-care routine?
I often remind folks that if we want to make changes in our lives, tracking our progress is an essential tool. There are so many ways that technology can support this (apps that track our water intake, daily steps, and sleep, for example). I also love apps for meditation, 'coloring,' yoga, and workouts. I also recommend that everyone creates a '911 Playlist' via a music app so that they have a go-to good mood playlist right at their fingertips!
In your book, you discuss finding balance. How does creativity play a part in self-care?
Creativity is a huge part of self-care–and everyone is creative, whether they realize it or not. I love how Dr. Brene Brown puts it: 'Creativity, which is the expression of our originality, helps us stay mindful that what we bring to the world is completely original and cannot be compared.' What an incredible reminder for us as educators. 
Getting Started with Self-Care
If a teacher wants to make one change today, where is a good place to start?
There's certainly no right or wrong way to start, but I typically like to focus on the basics: getting adequate sleep, moving your body every day, eating foods that make you feel good, and consuming enough water. The connection between our physiological needs and how we feel cannot be overstated. Typically once we start to make a change in one area and notice the results, we get inspired to move to the next area, and a ripple effect begins. 
What advice would you give a group of educators who want to hold a book club for your book?
I love book clubs! I think they're especially great for educators as participants can serve as loving accountability partners for one another–which is a huge help when it comes to working on ourselves!
How can readers connect with you and learn more about your work?
I love my readers so much! Please join my Facebook group, or email me (tinaboogren@live.com) with any questions or simply to connect.
Check out 180 Days of Self-Care for Busy Educators on Amazon, where it's available in both print and digital formats. If you have a favorite self-care tip or self-care app, add it to the comments of this blog post or share it on social media. Make sure to tag me @classtechtips and Tina H. Boogren in any of your social sharing!
*This post contains affiliate links, I may receive compensation if you click on one of the links*
This article was written by Monica Burns, Ed.D., and originally published on ClassTechTips.com. Monica is the author of Tasks Before Apps and host of Easy EdTech Podcast. You can follow her work on Instagram and Twitter @ClassTechTips.
—
For the latest news, videos, and podcasts in the Education Technology Industry, be sure to subscribe to our industry publication.
Follow us on social media for the latest updates in B2B!
Twitter – @MarketScale
Facebook – facebook.com/marketscale
LinkedIn – linkedin.com/company/marketscale
Latest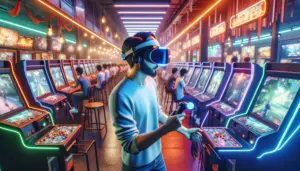 December 4, 2023
In this Pro AV Today soundbite from Dan O'Brien of HTC VIVE, the conversation centered on the significant role of Virtual Reality (VR) and Augmented Reality (AR) in attractions and enterprise applications. O'Brien highlighted the critical need for durable hardware design, tailored to withstand extensive use in location-based entertainment (LBE) operations. Unlike consumer-grade VR headsets, […]
Read More