How COVID has Altered the Future of Work and E-Learning
COVID-19 has been a catalyst in an office culture shift that's been gaining steam since the onset of the cloud. Since the coronavirus hit full force in the early months of 2020, remote-work models are fully in place for the foreseeable future. To remain competitive, companies now need to support these new paradigms by giving their employees the tools to make them happen.
A new generation of young tech workers is entering the workforce right now, already armed with tech experience. They've grown up with the internet, social media, and coding as core parts of their culture. They recognize and value flexibility beyond the old confines of office attendance and 9-to-5 routines. Tech work and working from home afford them that possibility. Students poised to enter the workforce should strive to hone skills that will make them competitive and successful in remote environments.
Virtual coding education
Industry workers with some fluency in tech gain the most from e-learning. But those in blue-collar occupations or low-density, tech-absent population areas are being left behind. Manufacturing jobs are increasingly being sourced to artificial intelligence, with some projecting that 60 percent of all jobs will be handled by AI within 10 years.
Re-skilling is a way for companies to retain valuable employees through teaching them 21st-century tech skills like web development and/or software engineering. But government support for re-skilling, and remote learning in general, has been in short supply. This puts the onus of building effective e-learning prototypes on the industries. But those without regular jobs or with sporadic gigs must shoulder the responsibility themselves.
Best practices for e-learning
For at least a little while longer, online education will be a primary means by which new students will develop the skills they need. Remote learners can accelerate learning and improve knowledge retention by adopting a few good practices and habits.
● Setup. Clear out a quiet spot away from constant distraction, with an ambient noise level you can tolerate. You also, obviously, need reliable and consistent Wi-Fi.
● Productivity software. It's never a bad idea to have a few basic–and usually free–software programs in addition to what your instructors provide. Many of the best text editors (Visual Studio Code, Brackets, Sublime Text) are fully functional freeware. You'll need a comm program like Zoom, Skype, or Google Hangouts, and productivity programs like Slack or Microsoft Teams.
● Scheduling. Arrange your schedule so you can devote as much uninterrupted focus on classwork as you can. Never deviate from this schedule except in dire emergencies.
● Communication. Find ways to maintain contact, whether in group projects, study sessions or even break time. Make a point to share your thoughts and ideas more actively.
● Homework. Since the future of business is virtual, we'll all need self-discipline to get things accomplished. Keeping on the ball with homework is great practice for where the tech business is headed.
Staying competitive while working from home
One of the biggest work adjustments the COVID-19 pandemic has forced is the drastic change in — or near-disappearance of — office culture. While many don't miss office politics or stress, working from home can have an adverse effect on office presence and competitive performance.
All-remote working tends to level out the character and urgency of the home office. Collaborations are less directed, and performance is often unmonitored. These may reduce unhealthy stress, but they can also make your efforts invisible. This could result in more casual employees being marginalized or even redundant.
There are ways the home worker can avoid these pitfalls, maintain presence, and remain competitive:
● Meet your deadlines. Working from home provides more outlets for distraction with very few controls. Elevate your awareness of deadlines and benchmarks, finish your assignments and keep your time commitments. Working from home is a chance to plug through your job with more concentration, which could turn out making you look more impressive.
● Communicate often. Keep communication lines open. Take advantage of communication tools as much as possible when working remotely. Send out status updates, start online chats, keep information in circulation, or at the very least just say "hello" once or twice a day.
● Learn to love video conferencing. We've all experienced the benefits and annoyances video conferencing apps like Zoom and Skype have to offer. But face-to-face communication remains the most effective form of relaying information, brainstorming and coming to group decisions. Anticipate service delays, audio lags and the boxy layout for now. Software will eventually improve.
● Use productivity apps. Pomodoro timers, social media blockers, workflow software, time trackers, mind-mappers, and a million more applications purport to increase work productivity. Many of them actually do, and require very little set-up or input. Set up a mini-suite of the best apps to address your most pressing duties.
● Make regular visits to the onsite office. When it's finally possible again after the pandemic recedes, stop by the onsite office at least once or twice a week to establish your presence, whether at in-person meetings or the occasional lunch .
Predictions for working from home in 2021
Global Workplace Analytics estimate that as of now, 75 million US workers have the ability to work remotely. That's 56 percent of the workforce. Even before COVID hit, 80 percent of employees wanted to have the option to work from home, with one third even willing to take a pay cut to do so.
The pandemic forced managers' hands and required them to allow employees to work remotely. But in 2021, we'll likely see them respond to other advantages of working from home — especially the prospect of environmental benefits and saving on operational expenses. The WFH model will continue to mature as managers build trust in the remote employees, cutting down on micromanagement and even increasing productivity.
Web development opportunities will continue to rise. This will make learning and enhancing workers' coding and programming skills more essential, especially for those traditional workers whose roles are taken over by AI. Incentivizing these workers to hone their coding skills will become imperative for many companies, and I've suggested several models for doing so: reworking federal and tax benefits, reviving the apprenticeship model, and offering retraining sabbaticals.
—
Be sure to subscribe to our industry publication for the latest news, videos, and podcasts in the Education & Technology Industry.
Latest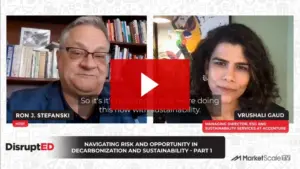 September 26, 2023
The global conversation has shifted dramatically towards decarbonization and sustainability in recent years. With the world experiencing unprecedented levels of disruption, from 5G technology to the challenges of a pandemic, the urgency to address climate change and its implications has never been more palpable. Although most business leaders see the vision of Sustainable Development […]
Read More