Digital Divide Worsens During COVID Crisis
LearnPlatform released this week The Exponential Growth of the Digital Divide – a new analysis of student and teacher use of K-12 edtech tools across a cross-section of U.S. school districts since the transition to remote instruction began on March 15 due to the COVID-19 pandemic. The report introduces a new approach to quantifying the impact of the digital divide as a function of both access to internet-enabled devices and the level of engagement with digital learning resources. The analysis spotlights the exponential growth of gaps in digital learning over the last 2 months, particularly between higher poverty and higher minority districts and their more affluent peers.

The new approach to measuring the equity gap presented in the report connects access to, and engagement with, digital learning resources with the impact on student learning outcomes. This digital learning equity gap is calculated by combining the gap in access to the level of per student engagement with digital learning materials. This is then adjusted by an "impact factor" that relates student engagement with projected learning outcomes based on an analysis of hundreds of rapid-cycle evaluations conducted by districts on LearnPlatform.
"During COVID-19, many have focused on the important issue of students' access to digital devices and internet connectivity; however, educators know that access is necessary, but not sufficient to understand equity gaps when it comes to student learning," said Karl Rectanus, CEO and co-founder of LearnPlatform. "Our team's unique technology, tools and analysis provide a clear understanding of how access and engagement levels during remote learning are expanding digital learning gaps, particularly between higher and lower income students."
This analysis quantifies the number of both student and teacher users and the amount of engagement with digital learning materials across more than 7,000 education technology tools — whether accessed at school or through remote learning — before, during and after school closures this spring. To assess the impact of COVID-19 on the digital learning equity gap, the analysis compares a district's baseline pre-COVID-19 edtech usage against data collected after school closures on student and teacher access and engagement levels.
The report's key findings include:
The Digital Learning Equity Gap Increased in All Districts: All districts witnessed a decrease in students with access to technology coupled with an increase in engagement for students with access. However, for districts with 40% or higher populations of Black and Hispanic students, or free/reduced lunch populations, the user decline was disproportionately higher and engagement levels were less than their peers.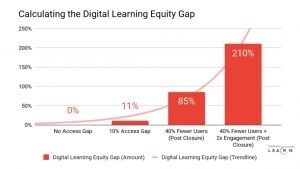 Higher-Minority Districts Experienced 121% Higher Equity Gap: Districts with 40% or higher populations of Black and Hispanic students witnessed dramatic within-district increases in their digital learning equity gap as a result of COVID 19. In these districts, the compounded impact of access and engagement was more than double that of districts with less than 40% students of color.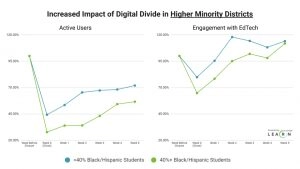 Less Affluent Districts Experienced 33% Higher Equity Gap: Districts where more than 40% of students qualify for free or reduced lunch also saw a larger learning equity gap, with these districts witnessing a 64% increase in the equity gap as a result of COVID-19, compared to a 48% learning equity gap in wealthier districts.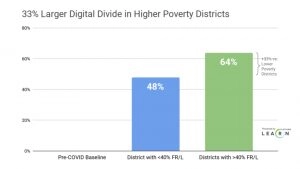 LearnPlatform's technology is rapidly becoming required infrastructure for school districts and states to ensure safe, equitable and cost-effective learning environments.  The analysis is part of LearnPlatform's free EdTech Insights series designed to provide a look at what is actually happening in remote and online learning while helping district and state leaders expand equitable outcomes for all students. To access the complete analysis, downloadable graphics and graphs and receive future releases, downloadable graphics and graphs and receive future releases, visit learnplatform.com/insights.
"If student learning is the goal, understanding student access to devices and broadband is important, but insufficient," said Daniel Stanhope, PhD, Vice President of Research & Analytics for LearnPlatform. "Knowing this, districts and states must go beyond ensuring access to supporting student engagement with high-quality digital learning tools, so all students continue to learn, even in challenging times."
Latest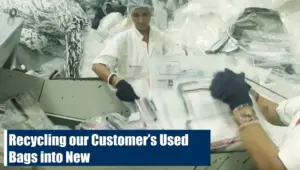 December 6, 2023
This video focuses on EcoLOK4, a groundbreaking product by CONTROLTEK that exemplifies innovation in sustainability. It highlights the process of transforming landfill waste into new deposit bags, with 90% of each bag's material being repurposed trash. This initiative not only reduces waste but also closes the sustainability loop, demonstrating CONTROLTEK's commitment to environmentally friendly […]
Read More