EdTech Tradeshows Take Education IT to New Levels of Learning
In an ever-increasing digital-driven world, advancements in technology are piloting innovative methods of educational delivery, opening up new and novel possibilities for more student learning and improved teaching. Education Technology, commonly referred to as EdTech, is not about superseding current approaches. Instead it is technology devoted to the development and application of tools (software and hardware) to increase the performance of the education system by simplifying communication, enhancing how students learn and streamlining time-consuming processes for educators, such as lesson planning and grade reporting.
Simply stated, EdTech is revolutionizing the nation's education system, taking teaching and learning to new, forward-thinking levels. To stay current with advances, issues, and trends, organizations across the country host conferences curating key note speakers and workshops in which teachers and technology-involved personnel can both learn and network to improve their school's EdTech departments and overall educational performance. Take a look at what's already on tap for this year's and next year's EdTech seminars.
June 24-June 27, 2018:  ISTE Conference and Expo — Chicago, IL – McCormick Place West Building
Dubbed "The Epicenter of EdTech", the 2018 International Society for Technology in Education Conference and Expo (ISTE) is right around the corner, bringing educator-tested strategies together with proven resources to provide countless learning opportunities for attendees. Registered participants can connect with a plethora of innovative educators, education trailblazers, and corporate leaders dedicated to transformative learning while immersing themselves in interactive workshops and hands on access to the latest EdTech products and services from more than 500 companies and 1,400 industry reps from around the world. Attendees can also listen to lectures by inspirational key note speakers such as David Eagleman (PH.D., Author, Professor, Speaker, Inventor, Adviser), Nadia Lopez (PH.D., Education Leader, School Founder), Andy Weir (Author, Former Software Engineer), Katie Martin (PH.D., Education Leader, Teacher, Author), and Michael Cohen (Designer, Educator, Creativity Instigator). See why more than 16,000 educators count on the ISTE Conference & Expo to inspire learning in the 21st Century by registering here.
October 31-November 2, 2018:  EDUCAUSE Annual Conference — Denver, CO – Colorado Convention Center
Hosting education professionals and technology providers from across the globe, the EDUCAUSE Annual Conference accommodates over 300 sessions and 700 presenters, providing the best thinking in higher education IT today. Attendees will have the opportunity to network, learn from, and share with their peers to explore and solve the challenges EdTech departments are currently facing. Last year's conference included breakout sessions, workshops, and well-known guest keynote speakers such as Physicist, Author, and Radio/TV personality Michio Kaku, and Professor, Consultant, and Author Temple Grandin. So this year's conference is sure to follow suit. Registration and housing opens June 12 here.
January 27-January 29, 2019:  FETC — Orlando, FL – Orange County Convention Center
The Future of Education Technology Conference (FETC) has been bringing the most vibrant and inspired education professionals together for over 40 years now, allowing attendees to explore motivational methods to engage students, enrich knowledge, and stimulate educational improvement within their school district. Showcasing industry experts, innovations in emerging EdTech technologies and products, and an agenda jampacked with sessions, workshops, keynote speakers, and learning opportunities, FETC provides attendees with the means and expertise to further promote and transform learning through IT in their communities. Prepare to network with thousands of peers, experts, and industry leaders by registering for the 39th National Future of Education Technology Conference here.
Ed Tech for the Future
EdTech has far-reaching implications, and the current student population must be prepared to face the modern challenges of their generation. With more schools having access to broadband, educators must be ready to ensure America's pupils can meet their futures head on in this increasingly technological world of ours.
Latest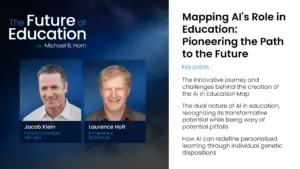 October 2, 2023
Mapping AI's role in education should be a critical step in bringing together innovative technology-based solutions with the expertise of human educators. With rapid advancements in artificial intelligence and an increased reliance on technology-driven educational solutions, the education landscape is on the brink of a significant transformation. AI promises highly personalized learning experiences, efficient administrative […]
Read More