Education Technology Market Size Worth $285.2 Billion by 2027: Grand View Research, Inc.
The global education technology market size is anticipated to reach USD 285.2 billion by 2027, growing at a CAGR of 18.1% from 2020 to 2027, according to a new report by Grand View Research, Inc. Technology has revolutionized the process of learning. From Massive Open Online Courses (MOOCs) to virtual classrooms, the education technology (EdTech) sector has emerged rapidly, leading to an influx of massive investments worldwide. Countries across the globe are realizing the potential of integrating technology to enhance student learning, enabling education leaders to undertake range of initiatives in integrating EdTech into their education systems, schools, and classrooms.
Key suggestions from the report:
Some of the major higher institutes and educational organizations across 

North America

 are increasingly shifting their focus from legacy EdTech education system towards online-based EdTech solutions
Integration of AI in schools and universities to automate activities, such as grading subjects and providing feedback, is anticipated to propel the demand for EdTech offerings
Cloud computing technology is used to store vital resources, such as audio/video lessons, written lessons, and assignments, on a school's cloud terminal. These resources can be accessed by students as per their convenience
Widespread use of mobile devices and tablets is leading to the use of gamification and immersive learning in educational institutions for an interactive and enhanced learning experience.
Developed economies, including U.S., U.K., and Germany, are at the forefront of developing and introducing innovative education technology offerings, supporting education administration, student and community engagement, and reducing teacher workload. On the other hand, emerging economies, such as India, are focusing on utilizing such technologies to provide access to educate their population. As a result, EdTech is anticipated to foresee substantial growth in such economies to educate the rapidly growing population rather than building a well-developed institute.
Technological advancements, such as artificial intelligence (AI), robotics, and augmented reality (AR)/virtual reality (VR), and their integration into learning are anticipated to transform the conventional techniques of teaching. These cross-curricular learning opportunities in the EdTech sector are expected to enable institutes and teachers to streamline resource commitments as well as develop students' knowledge through practical and cross-curricular applications.
Latest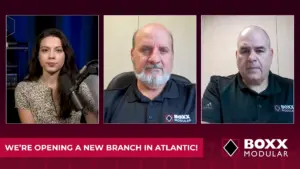 December 4, 2023
In an era where construction innovation is reshaping the industry, modular construction's growth continues to rise. In this episode of Built Modular, Boxx Modular's strategic expansion into Moncton, Atlantic Canada takes center stage. Host Gabrielle Bejarano welcomes Charles Landry and Ray Girouard to explore the implications of this venture. Bejarano, Landry, and Girouard discuss […]
Read More