eLearning Experts Answer Your Questions
On this special episode of the Voices of eLearning podcast, experts from around the industry lent their expertise and insights to questions from the show's audience to deliver a thorough look at the state of the rapidly shifting educational landscape.
Joining the show were Angela Arnold from OverDrive Education, Dr. Karen Aronian, educational consultant, Gordon Drummond of Sessions College, and many more leaders in eLearning and education technology.
Key questions asked of these thought leaders included:
What is the biggest roadblock facing organizations that are transitioning to eLearning?
Have learner expectations changed this year regarding the quality of eLearning options?
Is eLearning here to stay as a core component of learning, or will it fade after pressure from the pandemic eases?
What trend in education are you most excited about?
Regarding that last question, Arnold said there's a clear aspect of education that's growing at a rate that's got her excited for what's ahead.
"We're most excited about the focus on reading," she said. "Many K-12 schools are moving away from anthology reads in favor of standards-based literacy programs that engage students through compelling, real-world content."
Want to be a part of our next mail bag episode? Have some insights to share? Reach out to us!
Latest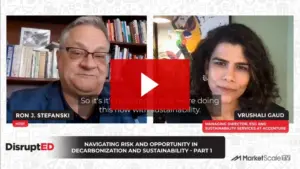 September 26, 2023
The global conversation has shifted dramatically towards decarbonization and sustainability in recent years. With the world experiencing unprecedented levels of disruption, from 5G technology to the challenges of a pandemic, the urgency to address climate change and its implications has never been more palpable. Although most business leaders see the vision of Sustainable Development […]
Read More