Equipping Teachers with Automated Tools to Focus on Engagement
Automated tools in education allow teachers to focus on engagement with students in new ways. Technology integration in classrooms is nothing new, but since the pandemic, more automated tools are available for teachers than ever before.
The focus is now on how automated tools can help teachers concentrate more on student engagement than administrative tasks. With the rise of artificial intelligence (AI) in various sectors, its application in education is a hot topic. A recent study by eSchool News found that 48% of educators see the potential for AI to facilitate student learning.
How can AI tools help teachers create a more engaging and personalized learning experience for students today?
In this episode of The Future of Education, host Michael B. Horn is privileged to speak with Hardeep Gulati, CEO at PowerSchool, and Marcy Daniel, Chief Product Officer at PowerSchool. Their discussion revolves around integrating AI in education, focusing on how PowerSchool equips teachers with automated tools to enhance student engagement.
Horn, Gulati, and Daniel cover the following during their conversation:
The evolution of PowerSchool from a student information system provider to a holistic provider of end-to-end education solutions
The vision for integrating AI into PowerSchool's roadmap to enhance personalized education
The collaboration with Microsoft to embed generative AI into PowerSchool's teaching tools
Hardeep Gulati, CEO of PowerSchool, has been instrumental in transforming the company from a student information system provider to a comprehensive education technology platform. Marcy Daniel, the Chief Product Officer at PowerSchool, has a rich background in product management and strategy, and she plays a crucial role in driving the company's product vision and roadmap.
Recent Posts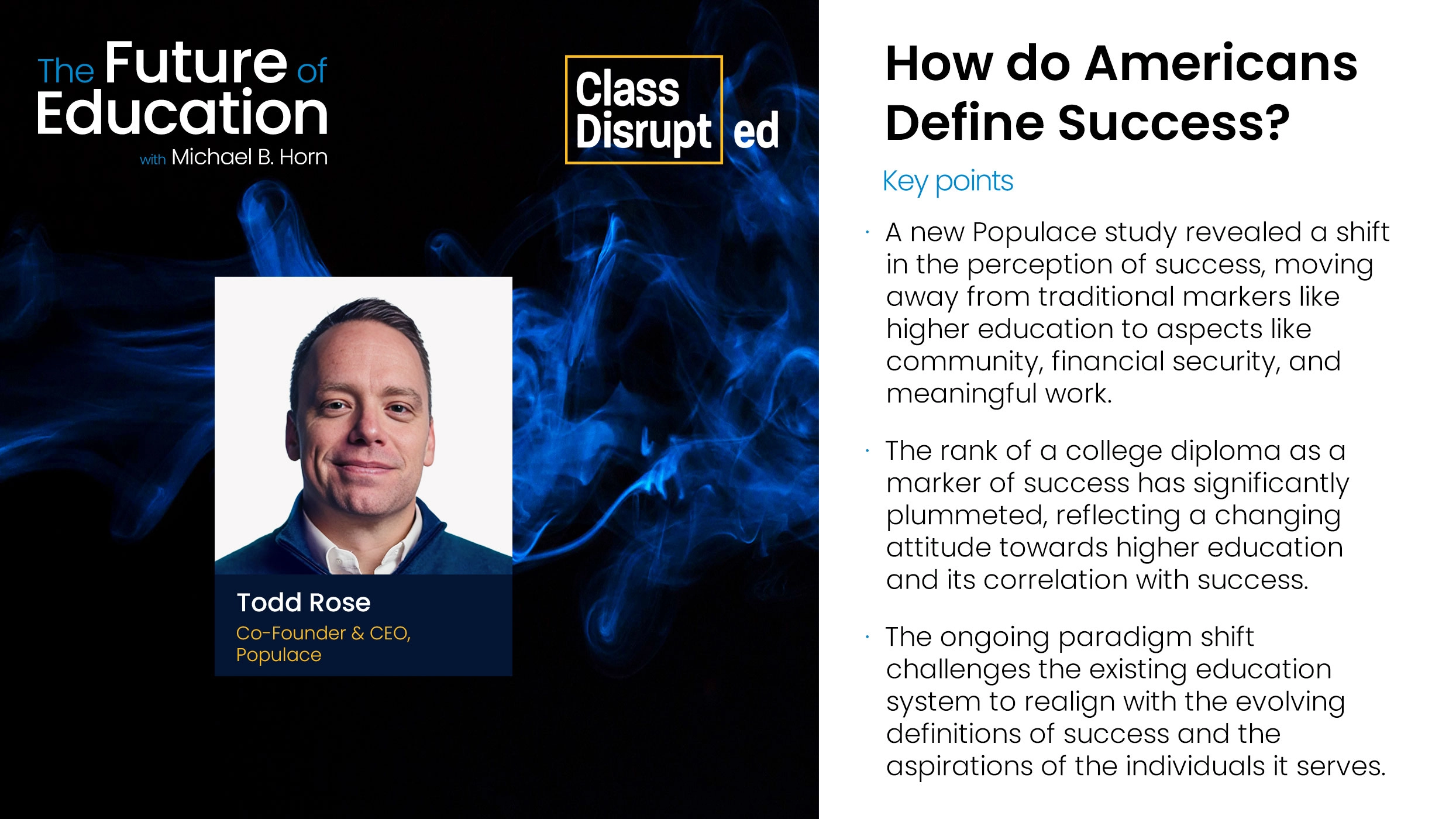 How do Americans Define Success?
Education & EdTech - Nov 13, 2023
How do Americans define success? Thats a loaded question, and one guaranteed to illicit multiple answers depending on who answers it and under what context.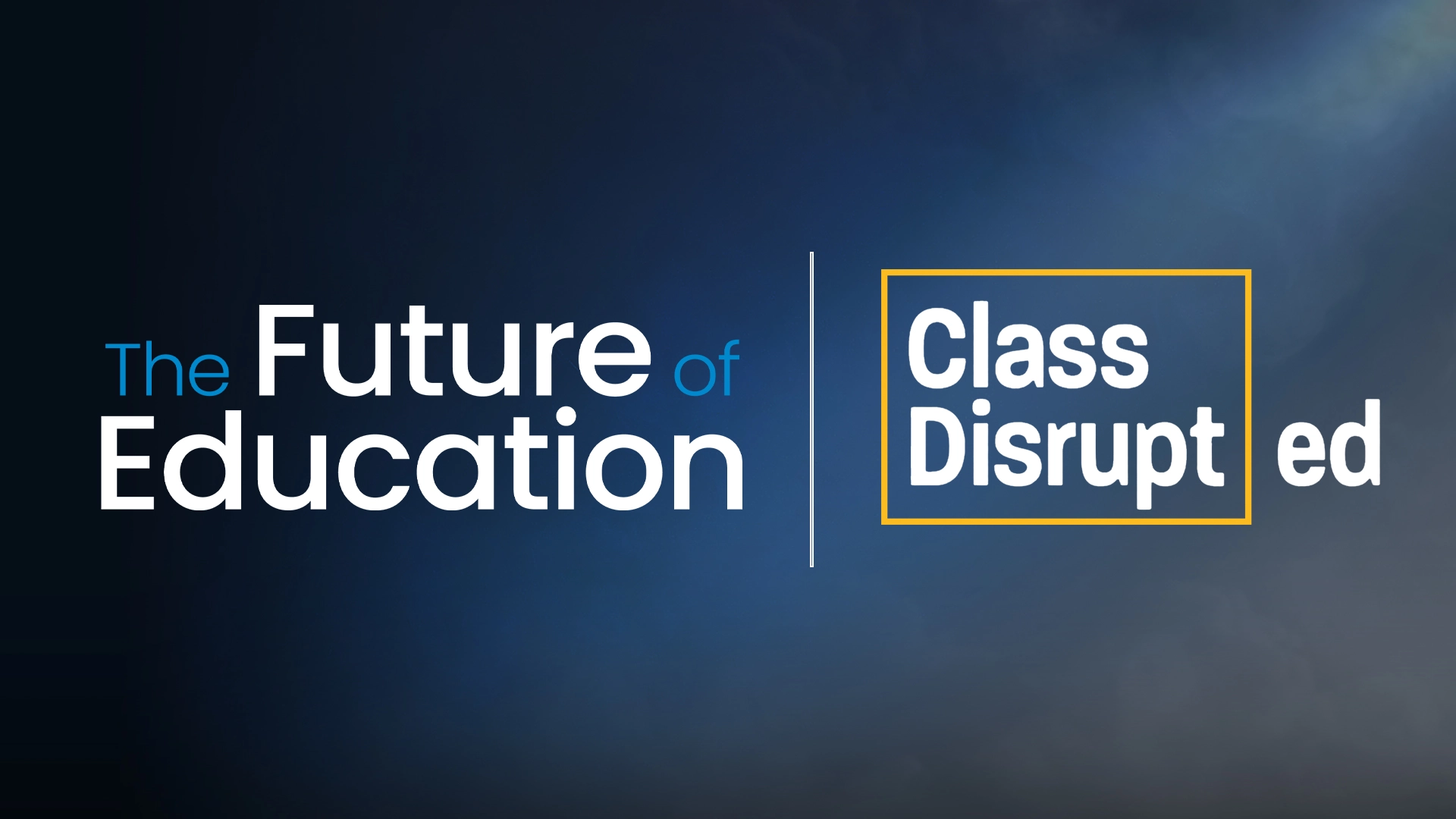 Bridging Purpose with Education: A Novel Approach to Student Fulfillment Post-High School
Education & EdTech - Oct 30, 2023
Today, the traditional educational paradigm is being questioned and reevaluated, and the quest for a more holistic, purpose-driven, novel approach to student fulfillment post-high school is gaining traction. As employers find it challenging to secure passionate, productive employees, the essence of guiding students toward a fulfilling life post-high school has never been more pressing.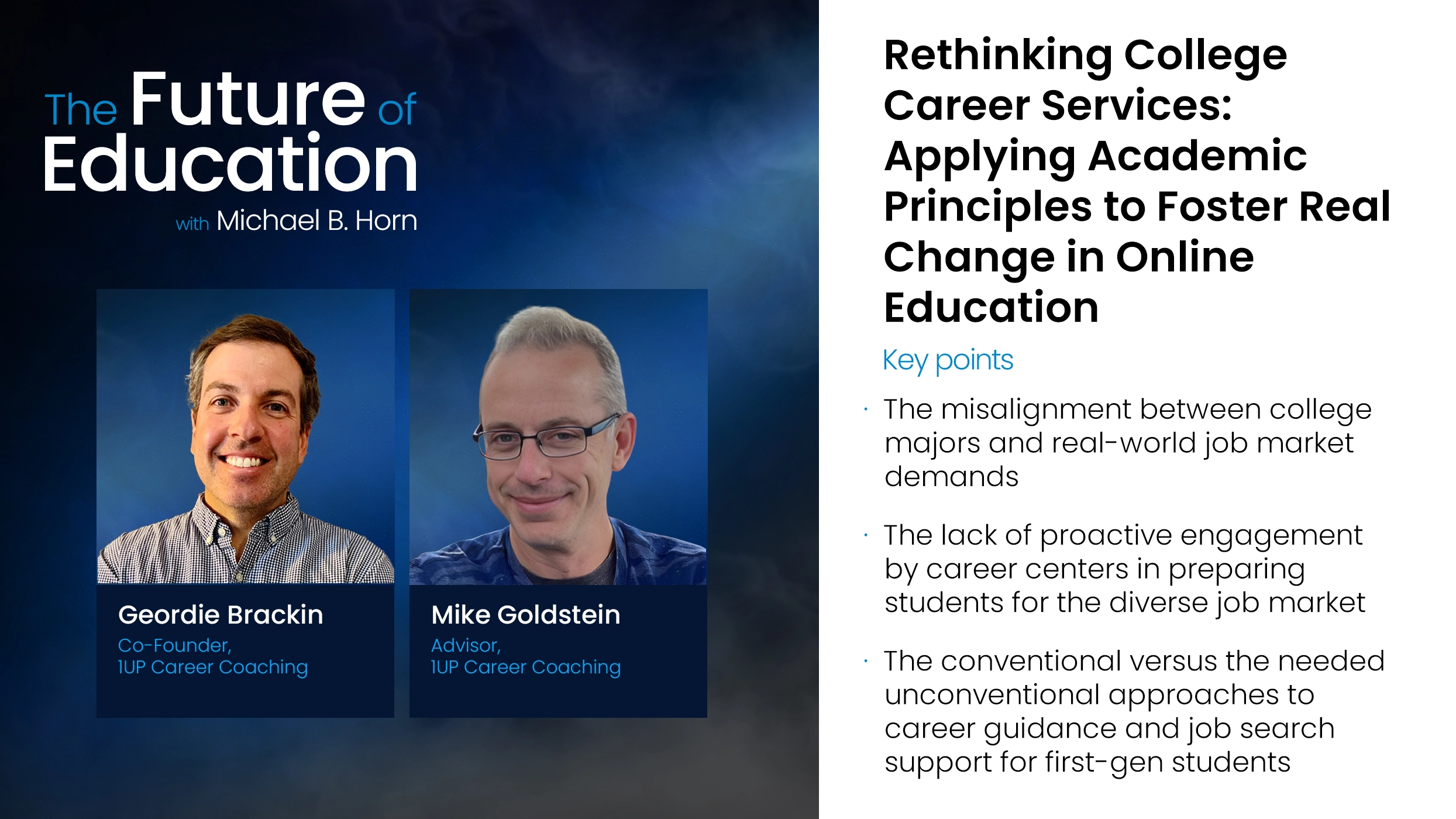 Rethinking College Career Services: Applying Academic Principles to Foster Real Change in Online Education
Education & EdTech - Oct 23, 2023
In an era where students seek a tertiary education as their ticket to upward mobility, the narrative is being rigorously challenged, especially regarding the efficacy of college career services in aiding students to transition into the workforce. The stakes are high as countless first-generation students embark on a journey through higher education with the hopes of securing a brighter economic future.
Register to MarketScale.com for Michael Horn episodes, events, and more.