eSports on the Big Screen, eSports in the Classroom with Elliott Levine of HP

The 2017 League of Legends final clocked in at around 60 million unique viewers. For reference, the much-awaited 2018 NBA finals this year were watched by an average of 18 million people per game, and those are great numbers, defying a trend of viewership plunges in professional sports over the last decade. eSports aren't breaking through into the mainstream– they're already there. A captive audience is waiting for more professional level, high-stakes content, and the education world is responding.
Elliott Levine, Distinguished Technologist and Director of Education at HP, knows this well. "A lot of colleges, they support successful programs in the sports because A, it's going to drive media attention, B, it helps attract and recruit students, and it helps drive revenue both from media branding and alumni." Universities and even high schools are treating eSports like any other sport, beginning to develop programs for eSports; while the demand is there, creating a curriculum for new sports is a daunting task. What will college programs add to the already self-sustaining equation? Where does this program fit departmentally? Where do you find high-quality coaches and staff for the program?
Levine joins us on this episode of the EdTech podcast to dive into some of these questions, why educational institutions are jumping on this eSports wave, and how HP is empowering eSports professionals on a technological and cultural front. "Above everything else, this at the very foremost, is giving us some of those interpersonal skills that are most critical that you can't get from just reading a textbook."
HIGHLIGHTS FROM THE EPISODE
Daniel Litwin: Before we get into how HP is helping empower students both technologically and culturally to get into eSports I'd like to know, just the growth of eSports, what have you seen from your position as to how eSports has grown in popularity and why do you think that is?
Elliott Levine: At HP we're always looking at what we call mega trends. We want to recognize, you know, things that are going to be long-term changes in the way we interact versus just the fad of the day and when we take those and we add into the impact of generation Z, not the Millennials but really that next generation that's going to account for more than 25% of the U.S. population by 2020. Their needs, their interests really go and have a greater impact not just on technology but really everyday life, and you know for me, the "aha" moment was when you start to look at some of the statistics out there, you know, League of Legends, their 2017 championship game had 27 million people watch at some point and you look at Game Seven of the 2017 World Series and it was 23 million. The NBA Finals 18 million. So this is something that people are growing interest in. It's more relevant to them and the more we embrace that the more we're able to have that impact and certainly. The Omen by HP brand has really taken advantage of that need for improved gaming experiences. This isn't something you just do on any old computer. You need technology that was really designed from the ground up for that sort of gaming experience, and now whether it's universities, high schools, or the individual consumer, they're looking for that gaming console and Omen has done a tremendous effort in the last year or two to really be that brand of choice for those professional gamers.
DL: You know, I think often the conversation around gaming… I think it has changed as of late. Especially since eSports is rising in prominence, but I think just even on an interpersonal level between gamers and their parents, or gamers and teachers, or gamers and even other friends, often the idea of spending a lot of time just playing a video game is thought of as a waste of time or something that is distracting from other more important goals, and it's interesting to see that narrative shift and it's interesting to see eSports become something that you almost want to encourage people that show an interest in gaming…it's like, "Well you should try and put these talents to good use and get into eSports." It's a great transition.
EL: It is. It's a cultural thing still. I sat at a conference of university leaders just this past summer and one of the keynote speakers was a vice president of a university who launched an eSports program; he started speaking about the scholarships they offer and it was interesting that one of the people in the audience, a fellow administrator from another college, said: "Wait a minute, you mean my child who's been sitting in the basement for the last three years isn't just down there wasting their time? They're practicing for possible scholarship?" Okay you know, so yeah, yes, what we may have not, you know, considered to be a waste of time actually is very viable and really part of what might be the next culture of our peers.
DL: Right and it's just validating to see that not only people might be getting a scholarship out of it or you know go to school for something like this, but that there's an audience for it. It isn't niche. The fact that you are getting millions and millions of viewers on these finals for some of the biggest games, it's validating and it gives the whole industry and the whole platform just so much more respect. It's cool to see that people are getting into something that people want to see, right? It's not just just something that you do on the side. It's your life. It becomes your career.
EL: Right. I mean this isn't like traditional what we would refer to as "gamification learning" or anything like that because the last thing you ever want to tell someone is you know, when they're playing a game having fun, you want to tell them that they're learning because, no, no that's not going to, right. That's a sure-fire way to get anything to be shot down. But in action, when you look at the results of what an individual does when they go through these gaming experiences, especially when they do these long drawn-out tournaments, there is skill sets that they are picking: up their ability to communicate, to adapt, to think critically, are really enforced and those are the sorts of skills that we're looking for in the job force.
So above everything else this at the very foremost, is giving us some of those interpersonal skills that are most critical that you can't get from just reading a textbook.
DL: Yeah. It's incredible. So walk me through a bit of how high schools, and universities, and colleges are adapting to this rise in eSports. You know, how are these students being impacted by eSports and how are institutions of education trying to adapt to give them more options?
EL: Sure. I mean – so there's that academic value that I was just talking about, but beyond that, a lot of colleges… they support successful programs in the sports because A, it's going to drive media attention. B, it helps attract and recruit students and it helps drive revenue both from media branding as well as alumni, and if you look at the average age of traditional sports, that age is much higher than eSports. So the best way to attract today's generation Z prospective students or to get alumni interest amongst your recent graduates is by focusing on this eSports area because it is a sport that is more relevant to them. So given that appeal, universities really see this. It's an opportunity to fulfill an area of high interest among future customers and what they're also finding is that, you know, schools with mature programs, they're finding a large portion of their athletes are actually majoring in fields like computer science, programming, cyber security. Having increased enrollment in these programs with those improved revenue targets are just some of the reasons that more and more schools seemingly, by the month, are now launching eSports programs in their colleges and universities and now we're getting the similar requests from high schools that see the ability to create that relevance, give something that students are interested in and help them see a path to really expand their studies especially in the stem subject areas all the way into college and their future careers.
DL: It's pretty incredible the way the narrative around gaming is shifting. I went to the University of Missouri and we have a liberal arts college nearby in Columbia Missouri called Stephens, and Stephens has an eSports program that actually made some rounds and it's just interesting to see this growth in that culture and it's really exciting especially from the scholarship perspective. I mean how would you create an academic scholarship around eSports? Are you actually seeing universities give students as, "Alright we're going to give you this X amount of tuition to come to our school to play said game?"
EL: Yeah and in fact in some universities the amount of scholarship they are giving to some of their eSports players is at the same exact level as somebody who is on their football team or their basketball team. So clearly, universities are seeing that A, this is not only helping with the revenue perspective, it's helping draw and attract that high caliber student. The other thing that's really fascinating about it is this is also helping to break down some of the very gender barriers that we're facing in STEM careers; all too often women do not pursue careers in STEM because of gender bias that they get at a very young age. Honestly, by the age of child turns 10 they've already got perceptions about what sort of careers they should do based on their gender and that's something we have to break, and with currently one-third of gamers being women and we think in the next couple years it's actually going to be more 50/50, it gives that role model for younger students that again it's going to help colleges draw and recruit in more female students to pursue STEM degrees, even if they're not personally interested in gaming.
For the latest news, videos, and podcasts in the Education Technology Industry, be sure to subscribe to our industry publication.
Follow us on social media for the latest updates in B2B!
Twitter – @EdTechMKSL
Facebook – facebook.com/marketscale
LinkedIn – linkedin.com/company/marketscale
Latest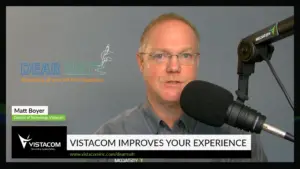 December 11, 2023
In a time when the AV industry supply chain faces unprecedented challenges, understanding its current status and future trajectory is crucial. In this week's segment of "Dear Matt," presented by Vistacom, host Matt Boyer, the Director of Technology at Vistacom, brings his over 30 years of experience in the audiovisual industry to the status […]
Read More