Is Face-to-Face Learning Better than Online Learning?
Much of the recent argument raging about reopening schools rests on the quality of online instruction. That's understandable. However, there's much about online instruction that remains misunderstood. It's time to change that…
In my 50-year teaching career, I had the opportunity to create and teach online courses, an experience that sheds light on this debate. For starters, I can attest to that the quality of online instruction will improve as instructors and students become more familiar with it and engage with it more, and that if a program is a bit awkward at first, that awkward or clunky nature shouldn't be used as a reason to physically reopen schools.
Related content: 4 recommendations for online learning in the fall
When the University of Maryland's Robert H. Smith School of Business decided to offer an Online MBA degree, our first priority was to create the highest quality program possible. To achieve this goal, we built the online MBA program to feature weekend residence sessions at the beginning and end of each term, and synchronous video classes for each course. Synchronous video is like a Zoom conference.
In my course on transformational information technology, I recorded lectures that were broken into 10-minute segments – research shows that student concentration falls off during longer videos. To enliven the lectures, I include my teaching assistant, Frankie, a miniature dachshund.
In my weekly synchronous class, there were a maximum of 25 students plus myself, each in an interactive video window. We used synchronous class time for discussion mostly of case studies featuring technology issues. I found it necessary to prepare a plan for synchronous class sessions with a specific time allocated for each topic, and to work hard during class to follow the plan. The level of interaction was high and there was certainly no hiding in the back row.
Creating and updating video lectures, planning interactive classes, and the heavy concentration of the synchronous sessions meant that teaching online required as much or more work than teaching a face-to-face class.
The term projects and final exam results for the online class were comparable to those from my face-to-face version of the course for full-time students.
After gaining experience with the online MBA program we worked with edX, the MIT-Harvard MOOC platform, to develop a micromasters program with seven MBA courses delivered as MOOCs. A student who does well in these seven courses can apply to the online program and receive college credit for completing them. Since MOOCs are asynchronous, we devoted significant resources to development, including scripted lectures that faculty recorded in a studio. For my information technology course, different instructors from the course created video lectures on the topics where they have the most expertise.
A relatively small number of faculty members had prepared online courses before the pandemic forced them to this spring. Most instructors had little time to prepare highly polished video lectures and other materials. As faculty members gain experience in this realm, they will want to improve on these first efforts.
Creating more professional video lectures dramatically increases the level of effort and cost of course development. The resources required to create this level of quality are considerable, including computer hardware and software, instructional design staff, and videographers and editors, to mention a few. An important research question is what level of professionalism is required to engage students and provide the educational outcomes we seek for our courses.
We have hundreds of years of experience with education, which has led to a variety of class formats and creative ways of teaching.
At the university level, courses range from one-on-one tutorials to lectures with hundreds of students. Is one of these formats always better than another? It depends. How much of quality in education is due to the efforts of the instructor? Of the motivation of students? As teachers and students at all levels gain experience with online education their quality will equal or exceed face-to-face instruction. The quality of online education should not be a factor in deciding to reopen schools.
Be sure to subscribe to our industry publication for the latest news, videos, and podcasts in the Education & Technology Industry.
Latest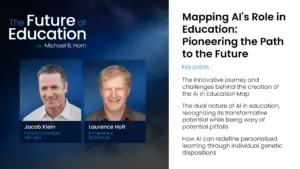 October 2, 2023
Mapping AI's role in education should be a critical step in bringing together innovative technology-based solutions with the expertise of human educators. With rapid advancements in artificial intelligence and an increased reliance on technology-driven educational solutions, the education landscape is on the brink of a significant transformation. AI promises highly personalized learning experiences, efficient administrative […]
Read More