Financial Literacy Goes Online
Celebrating the leaders and experts that are powering education into the future, host JW Marshall sets out to ask the "right questions" in EdTech to understand the changes in policy and technology that will power our universities, trade schools, and companies – and drive growth in upskilling certifications.
There is no denying that U.S. schools do a great job at providing a well rounded education for young students. From math to science to art to foreign languages, students are exposed to so many important subjects for 13 straight years. Which is why it's pretty surprising that so many U.S. schools skip educating their students on personal finance.
JW Marshall, Host, Voices of eLearning connected with Rhonda Ashburn, Executive Director, AFSA Education Foundation to discuss the major gap in financial education in schools. According to Ashburn, research continues to highlight the benefits of financial education. "We know that better financial decisions and increased financial security are a result of having that learning. So it's interesting to me, there are only 21 states that require high school students to take a course in personal finance. So if I had my dream, everyone would take a course," Ashburn said.
She went on to explain that the Financial Industry Regulatory Authority (FINRA) Investor Education Foundation does a national capability study and their basic financial literacy quiz found that within the U.S., there's only a third of individuals that can answer at least four of the five questions. "That gives you an idea of how great the need is. They also have studies that show that young adults have significant improvements in their credit scores and reduce delinquencies when they are implementing the rigorous standards that are in the states having, you know, a higher level of rigor. So it speaks to the value of those standards," Ashburn noted. MoneySKILL research found that their free online personal finance course increased students' financial literacy quiz scores on average by 50% after completion of the course. You can sign up for the MoneySKILL personal finance course at https://afsaef.org/.

Latest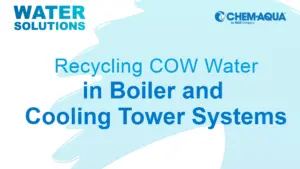 December 7, 2023
For the latest episode of ChemAqua's Water Solutions podcast, the focus was on an innovative approach to water conservation in the dairy industry. The show examined the potential of reusing Condensate of Whey (COW) water, a byproduct of dairy processing, and highlighted some of its economic and environmental benefits. Hosted by Dani Waddell, the informative […]
Read More