From Tragedy to Prevention: Susan Payne's Journey with Safe2Tell
In a recent episode of the "Secured Podcast," host Mike Matranga welcomed Susan Payne, a renowned expert in K-12 security and the founder of Safe2Tell. With a background in law enforcement and extensive experience in school safety, Payne shared her insights on preventing tragedies and promoting early intervention in schools.
Susan Payne's impressive career spans 28 years in law enforcement, beginning with the Colorado Springs Police Department. She played a pivotal role in establishing the first School Resource Officer (SRO) unit and led hostage negotiation teams. Following the tragic events at Columbine High School, Payne was brought in to assist in the aftermath and eventually became the Special Agent in Charge for Public Safety in Colorado.
One of Payne's significant contributions to the field of school safety is the establishment of Safe2Tell, a nonprofit organization. She has worked tirelessly to replicate reporting systems and create statewide infrastructures for information sharing and early intervention. Safe2Tell focuses on educating and engaging students, staff, and communities about indicators and warning signs, ensuring a comprehensive approach to prevention.
Payne's collaboration with the National Threat Assessment Center at the United States Secret Service further solidifies her expertise. The Secret Service studies conducted after incidents like Columbine provided crucial data on school shootings and mass acts of violence. These studies revealed that in 81% of cases, someone knew about the potential violence but didn't speak up. Furthermore, 93% of those individuals were young people, emphasizing the importance of empowering students to report concerns and intervene early.
During the podcast episode, Payne stressed the significance of a holistic approach to school security. While physical infrastructure and policies play vital roles, the foundational component for preventing violence lies in assessing student behavior. The National Threat Assessment Center's research consistently shows that nearly all attackers exhibited warning signs and symptoms of concerning behaviors. Thus, prioritizing behavioral threat management is essential to thwarting violence effectively.
Matranga and Payne discussed two common challenges faced by K-12 institutions: limited funds and the belief that violence won't happen in their schools. Payne emphasized the need for education and training across key stakeholders to address these challenges. She encouraged leaders in law enforcement, government, and education to prioritize comprehensive approaches that encompass all aspects of school safety. By cross-training and implementing evidence-based practices, schools can prevent acts of violence and support students on a pathway to success.
While securing funding can be a hurdle, Payne suggested several avenues to explore. These include accessing grants at the local, state, and federal levels and preparing in advance by assessing gaps, barriers, and required implementation plans. Additionally, parents can play an instrumental role by rallying and fundraising within their communities.
Payne underscored the urgency of taking action rather than waiting for legislation to pass or funding to become available. She urged schools to seek solutions that align with their budgets and emphasized the affordability of certain foundational components, such as planning, operations, and communication strategies. She also highlighted the possibility of implementing comprehensive plans in phases, ensuring progress toward a holistic approach.
The podcast episode with Susan Payne sheds light on the importance of shifting perspectives and priorities in school security. By recognizing the critical role of behavioral threat management, schools can create safer environments and intervene early to prevent tragedies. With Payne's wealth of knowledge and expertise, her journey from tragedy to prevention serves as a guiding light for educational institutions seeking effective strategies to protect their students and staff
Latest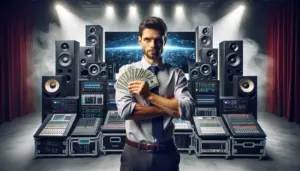 December 8, 2023
Mastering AV sales strategies in a global professional audio-visual (Pro AV) market, poised to reach $79.2 billion by 2028, requires much attention to detail. The surge in demand from corporate, government, and institutional sectors, driven by the need for enhanced productivity and efficient working environments, gives AV sales pros a lot of opportunity. In […]
Read More