Hacking Attempts in the Education Sector Are On the Rise. Here's How Schools Can Stay Safe from Cyberattacks.
Educational institutions are facing a surge in cyberattacks targeting IoT (Internet of Things) devices like IP cameras, network video recorders, and routers, according to recent data published by Check Point Research. In fact, the cybersecurity solutions provider states that there has been a 34% increase in cyberattacks when compared to last year. How can schools and other organizations stay safe from hacking attempts in the education sector?
Experts believe that schools and universities need to focus on vulnerability management. Basically, this process involves the continuous identification and resolution of potential weaknesses or flaws, such as bugs and firewall misconfigurations. These give hackers a chance to steal data and cause harm. Even something as simple as regularly updating software and installing antivirus solutions can help prevent unauthorized access to confidential data like the addresses and medical records of students.
BlueSteel Cybersecurity CEO Ali Allage, who has two decades of experience in leading tech companies, tells us how schools can stay safe from cyberattacks and institute better strategies against hacking attempts in the education sector.
Ali's Thoughts
"So, my thoughts on the topic of the education sector seeing an increase in attacks is not surprising just because of how much the education system had to transition [during] and after covid on technology use. There's been a lot of quick adoption without necessarily having the right frameworks in order to support remote education or adopting some of the technologies needed for today's educational world. So, part of that is not having a grasp on vulnerability management, and this is using these tiny devices, like I mentioned [IoT devices] like cameras, [some] of these hardware pieces that sometimes get overlooked on firmware. Making sure that the software that goes to run the hardware are up to date. And, so we'll see a lot in terms of vulnerability management not necessarily getting the love or attention it needs, or you'll see that they're identifying some of the issues — It's just that the breadth of items that need to be addressed are pretty large and it could be overwhelming for the IT and security teams to handle appropriately in a timely fashion.
So, it just goes to show that there's obviously more attacks that are happening because of these devices not being updated and kept protected, and also that how much support the industry needs in order to make sure that that's not the case anymore. And I think, just the fact that it being an easy target is a natural draw for anyone that wants to breach or be able to obtain information, especially where it leads into other areas like social engineering or being able to broaden out the attack versus the one major attack to [lead] it to the greater level attack. I think [the] obviousness of it is just low hanging fruit to be able to obtain access or breach in order to grab initial pieces of information that could lead to larger attacks. And, I think school systems and educational industry could do a better job of focusing on their vulnerability management, and then also figuring out processes that once you've discovered, how do you address, and making sure that those are all online."
Article written by Aarushi Maheshwari.
Latest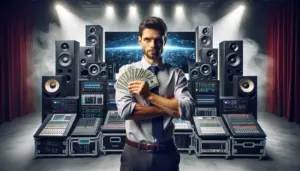 December 8, 2023
Mastering AV sales strategies in a global professional audio-visual (Pro AV) market, poised to reach $79.2 billion by 2028, requires much attention to detail. The surge in demand from corporate, government, and institutional sectors, driven by the need for enhanced productivity and efficient working environments, gives AV sales pros a lot of opportunity. In […]
Read More