4 Higher-Ed IT Predictions for 2021
*Alison Bell is a contributing author for eCampus News and has more than 20 years of higher education leadership experience and is the Regional Vice President of Western Governors University, overseeing Western Pennsylvania, West Virginia, Ohio, Indiana, Michigan and Kentucky. WGU is a nonprofit, online university offering 60+ degrees in the four colleges of business, teaching, I.T. and health/nursing.
—
The year 2020 has proven to us all that it can be quite difficult to anticipate how a year, let alone a month, will look for any industry. For the education industry specifically, students of all levels have been drastically affected by COVID-19, resulting in learning opportunities transitioning to mostly online. In fact, 97 percent of students who were already enrolled in college before March 1 of this year have switched to online instruction.
Higher-ed IT leaders and educators recognize the tools needed to succeed in a virtual environment and how the need for virtual instruction will continue to grow.
We're encountering a world that is thriving primarily by online services – email, messaging, Zoom meetings, and news consumption. Our success as a society is very much affected by an online environment that has minimal glitches and provides security. As we look toward 2021, I'm sharing a few of my higher-ed IT predictions.
IT education is needed to supplement a spike in IT jobs
What I've witnessed in the higher-ed community, especially since the onset of the pandemic, is a spike in higher-ed IT needs. With the nearly 20 percent surge in demand for cybersecurity jobs, students are seeing the potential of job security for those skilled in information technology. Professionals in nearly every industry are finding that many positions can be done remotely – but that can also open the door for unintended data breaching.
Because many remote workers don't have skilled training in cybersecurity, the need for this kind of expertise has increased. Streamlining processes and determining efficiencies with data collection has also been brought to the forefront. According to a recent Harnham survey, 81 percent of data professionals have reported feeling more secure in their profession now than they did a year ago. I see this trend continuing throughout 2021 and years to follow as remote working is now a way of life for many; it's projected that the IT profession will increase by 11 percent between 2019 to 2029, so there's no doubt that there will also be a higher demand for accessible IT courses.
The impact of the digital divide
Regardless of where someone lives, they deserve and require access to reliable internet to succeed in our society. Currently 21 million Americans do not have access to broadband internet, leaving them with an unfair disadvantage to pursue education online, especially during a year where colleges across the nation are transitioning to online classes.
I can't emphasize enough the need to continue communicating with representatives and leaders in every state who are taking action toward shrinking the digital divide. The lack of access directly affects students who are eager to pursue their educational goals. Western Governors University has recently launched a scholarship program that grants high-speed internet access and a refurbished laptop with a webcam to qualifying students. I imagine this type of offering will continue to increase as higher education institutions realize that breaking down the internet barrier will open the door for students to succeed – leading to a workforce that also understands the importance of digital access.
The benefits of online courses, including safety
With social distancing measures still in place for many states, one of the safest ways to pursue education is online. It's also typically a more affordable and effective way of learning, offering students a bit more flexibility with their schedules when commuting and in-class time are eliminated. The feedback I've received from students who are enrolled at WGU, many of whom also work full-time, is that the online environment allows them to pursue both their educational and family goals simultaneously. I've also seen many adult learners recently enroll in our IT courses who were laid off or furloughed this year due to the pandemic. Students are seeking online courses for degrees that will provide security and long-term employment.
While some students have found online learning difficult to navigate and perhaps not of the quality they'd hoped for, I want to point out that not all online learning is created equal. Students have different needs. Many are not looking for an experience that's force-fitting a traditional learning model into an online format—rather, they're seeking one that orients learning around the student. Depending on a student's needs and preferences, they may want to seek out an online university that gives students a dedicated advisor, a technology ecosystem and learning model that allows students to learn when and how they want, and a competency-based model that focuses on students mastering the subject and proving competency rather than sitting in a classroom.
What 2021 has in store for IT
Many online IT degrees include certifications that are tailored to today's IT industry requirements, with the understanding that every year educators will need to keep a pulse on the environment to determine what skills are relevant for IT professionals. It's crucial for an online university to have IT instructors skilled in online teaching who are also attuned to the digital evolution year after year. With every advancement in technology comes a requirement for universities to adapt and be prepared.
And due to the pandemic, adapting to tech trends will help every individual navigate a year that will undoubtedly look different from any other we've encountered. More and more companies are deciding to have permanent remote workers. AI is definitely one of the biggest tech trends I'm witnessing – the amount of information being gathered right now for the healthcare industry has resulted in computer algorithms to become increasingly sophisticated. Additionally, more business transactions will take place online, ultimately changing how we interact and work with one another.
IT skills, quite honestly, are at the core of our future. It's vital that higher education recognizes this growing need and prepares for a growing workforce that can quickly adapt to a virtual world.
—
Follow MarketScale on social media for more EdTech updates!
Twitter – @MarketScale
Facebook – facebook.com/marketscale
LinkedIn – linkedin.com/company/marketscale
Latest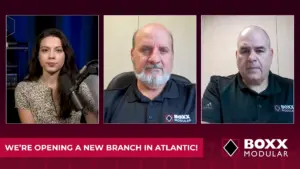 December 4, 2023
In an era where construction innovation is reshaping the industry, modular construction's growth continues to rise. In this episode of Built Modular, Boxx Modular's strategic expansion into Moncton, Atlantic Canada takes center stage. Host Gabrielle Bejarano welcomes Charles Landry and Ray Girouard to explore the implications of this venture. Bejarano, Landry, and Girouard discuss […]
Read More