How AT&T Aims to Solve the Digital Divide
AT&T announced last month it will invest $2 billion over the next 3 years to help address the digital divide. This renewed commitment to the communities they serve combines AT&T's low-cost broadband service offerings with community investment. And it builds on the company's contribution of $1 billion over the last 3 years toward helping the nation's most vulnerable communities.
"We tip our hat to Acting FCC Chairwoman Jessica Rosenworcel for her leadership in making the Emergency Broadband Benefit available to more than 30 million households" – John Stankey
"We believe that broadband connectivity is essential for all Americans," said John Stankey, CEO, AT&T. "Our broadband networks rose to the challenge of the pandemic in part due to policies that promoted private sector investment in multiple technologies and networks. AT&T is investing in and expanding the reach of our broadband networks while also advocating for effective and sustainable public policies that help close this country's digital divide."
In a release, the company explains the details:
How will we do this?
Expanding affordable broadband through AT&T's low-cost offers and the Emergency Broadband Benefit program administered by the FCC
Education Offers: We continue to offer discounted wireless solutions to more than 135,000 public and private K-12 schools, colleges, and universities. These offers help keep students and teachers connected in a 1:1 learning model to assist in transforming education beyond when schools reopen. High-speed internet should enable new learning opportunities, not be the barrier to them. That's why we've stepped up our support over the last year to address education inequality for the almost 17 million students, predominately children of color in low-income and rural households, who don't have internet connectivity.
Access from AT&T: Introduced 5 years ago, this AT&T-funded program makes the internet more affordable for customers by providing qualifying households with wireline internet service at $10 or less per month. This voluntary offer from AT&T has no contract or installation fee. Plus, it includes in-home Wi-Fi at no additional cost. We are continuing to waive data overages for these customers, and we're keeping the expanded eligibility to qualifying households and those participating in the National School Lunch Program and Head Start. Hundreds of thousands of Americans enjoy Access from AT&T, and we aim to build upon this voluntary program, partnering with government policymakers to ensure sustainable funding to keep broadband options affordable for qualifying households.
Emergency Broadband Benefit (EBB): In another move to make the internet more affordable for more people, eligible customers will be able to temporarily reduce their monthly broadband costs by taking advantage of the Federal Emergency Broadband Benefit (EBB). This government program administered by the FCC will allow more than 30 million eligible1 households to receive an additional subsidy of up to $50 a month. Those on Tribal lands are eligible for up to $75 per month. The monthly cost of broadband – after applying the Emergency Broadband Benefit – can fall to as low as $0 a month.
The EBB can be applied to eligible home internet services like Access from AT&T or AT&T Internet, available within our 21-state wireline footprint. Or it can be applied toward eligible postpaid or prepaid wireless plans at AT&T, AT&T PREPAID and Cricket Wireless, which are available in all 50 states.
Once customers verify that they are eligible, we'll apply the benefit to their service until the EBB ends. The uniform program start date is pending an FCC announcement.
"We tip our hat to Acting FCC Chairwoman Jessica Rosenworcel for her leadership in making the Emergency Broadband Benefit available to more than 30 million households," Stankey said. "The EBB is a great first step in addressing affordability in the short term. We continue to encourage Congress to work on more permanent solutions with sustainable funding so that all Americans can have access to affordable broadband."
Last week, AT&T joined nearly 50 advocacy organizations, companies, and non-profit groups setting out the guiding principles for Congress and the Biden Administration as it debates the specifics for the American Jobs Plan. We urged policy makers to enact sustainable, effective broadband policies that have proven to build the most resilient broadband networks, create jobs and empower opportunities for all Americans.
Latest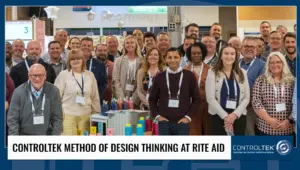 December 4, 2023
The video showcases a dynamic workshop titled "CONTROLTEK Method of Design Thinking at Rite Aid," highlighting the collaborative and innovative efforts between CONTROLTEK and Rite Aid teams. It features scenes of brainstorming, prototype development, and group discussions, emphasizing CONTROLTEK's customer-centric approach to problem-solving and innovation in retail solutions. The workshop demonstrates how cross-functional teams […]
Read More