How In-Classroom Technology is Evolving as a New Decade Begins
BenQ Senior Director of Business Development Bob Wudeck and Digital Marketing Manager Carly Burton Sallay joined MarketScale Business Development Manager Shannon Maverick in MarketScale's Trinity Studio for a discussion on exciting innovations in Education Technology.
Specifically, the trio touched on the evolution of in-classroom technology, highlighting the direction of the EdTech industry as a new decade begins.
Wudeck said the primary purpose of technology in education, from chalkboards to the latest, cutting-edge solutions, is to bridge gaps in learning for students.
The technology-native nature of today's younger generations, Burton Sallay said, is also a key consideration in the modern EdTech space.
"They're introduced to technology basically the moment they're out of the womb," she said. "They are learning at a different pace and in a different way than we ever did when we were younger."
That comfort with technology, Burton Sallay said, has allowed technology to play a greater role in education sooner in students' lives than ever before.
You can also listen to more podcasts from TCEA 2020 right here.
For the latest news, videos, and podcasts in the Education Technology Industry, be sure to subscribe to our industry publication.
Latest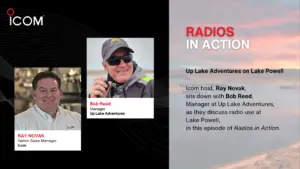 November 29, 2023
Delving into the serene beauty of Lake Powell, the Icom Podcast "Radios in Action" pairs the thrill of personal watercraft adventures with the crucial use of marine radios. Host Ray Novak and Bob Reed, the Manager of Up Lake Adventures, discuss the enthralling experiences offered by Up Lake Adventures in Utah's majestic landscapes. In […]
Read More