How Parents Are The New Customers In Education: Remote Possibilities
Another edtech monolith about to crumble due to the pandemic, along with standardized testing and taking attendance, is how education software gets bought and used. In this episode of Remote Possibilities, Drops Chief Customer Officer Drew Banks talks about the surge in downloads for the company's learning language app as the lockdowns began and the quick pivot they took to provide extra curricular support for students using Droplets. These weren't district buys but parents choosing the learning tools, a trend likely to expand as remote learning continues.
Topics include:
The ingredients needed for a valuable and successful e-learning tool
What the future of edtech looks like and how the education sector will have to adapt and innovate
What's in store for Drops and how they're supporting remote students
Drops entered into the children's education market with the launch of Droplets, an app designed specifically to teach kids aged 8-17 to learn foreign languages. Through the use of word games, swipe-based interaction and quirky illustrations, Droplets is a COPPA -compliant approach to language learning that is both parent-approved and kid-friendly. Droplets' short 5-minute sessions are aimed at kids and teens with shorter attention spans and also for parents concerned with screen time limits.
Since launching its flagship app in 2015, Drops has expanded its language learning scope with three companion apps: Scripts, which teaches learners how to read and write new alphabet and character-based writing systems; a visual online dictionary; and a Drops web app. D​roplets i​s the company's first app to broaden the platform's reach beyond adult language learners.
Droplets​ will be available for free download on iOS and Android, with the premium subscription providing unlimited access to the Drops suite of apps.
Latest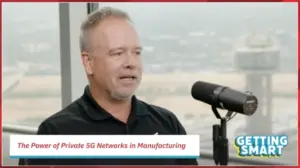 September 25, 2023
The Convergence of 5G and Automation in Manufacturing: A New Industrial Revolution The manufacturing industry stands at an inflection point. Advances in 5G technology and automation are coming together to transform the way products are made, and the role that humans and machines play in this process. Per Treven, Director of Business Development at Ericsson, […]
Read More