How Teachers Connect With Students One Data Point at a Time
Today's teachers use a mounting number of technology-based tools to get their jobs done. A single teacher may take attendance using a learning management system, have students complete a warm-up using a separate app, assign classwork through Google Classroom, and later download state assessment data online all in the span of a few hours. Other pertinent information like student IEPs may exist in yet another location, and past grades in still another.
When it is time for teachers to provide feedback on a student or reflect on their practice, retrieving information from so many different locations quickly becomes untenable.
On the administrative side, if a student ever changes schools, all of the information about his or her credits, current grades, and demographics must be transferred from one student information system, or SIS, to another for the new school to place him or her in correct classes and provide appropriate additional services. If the two schools' SIS systems store data in different formats, important information can fall through the cracks.
This is why it is so important for schools to get interoperability right. Data interoperability is briefly defined by the Consortium for School Networking as "the seamless sharing of data, content and services, among systems or applications." In other words, at a fully interoperable school, all of the tools a teacher uses would be able to connect with one another make data accessible in one place so that the teacher can spend less time tracking down information and transporting it, and more time using it to improve student outcomes. When it is time for students to switch schools or move on to college, the process should be equally simple – student information would be safely and securely transferred from one school's SIS to another in real time, with no need for manual data entry or risk of data exposure.
Unfortunately, many data-storing systems and learning applications that schools use are still far from fully interoperable. Brooklyn-based non-profit InnovateEDU is currently managing the second phase of interoperability initiative called Project Unicorn, an alliance of LEAs and education technology vendors which supports a mission to further educational interoperability.
Erin Mote, former Mozilla Next Generation Learning Expert, is now using her extensive expertise to further the mission of Project Unicorn as the executive director of InnovateEDU.
In its first phase, which began in August 2016, Project Unicorn developed a four-tiered rubric for stakeholders to use as tool to see at what level they currently stand with interoperability implementation. Mote explains that there is a high level of granularity for schools to consider when discussing interoperability, and that the goal in developing the rubric "was to help get at some of that granularity." At tier one on the rubric, a teacher's data is sequestered in difficult-to-access, fragmented locations. At the other end, in tier four, data is transported from one location to another in industry-standard formats in real time. The level of detail provided in the rubric can help stakeholders as to envision what lies ahead as they work towards full compliance with industry-aligned data standards.
The conversation about interoperability revolves in large part around development and implementation of such standards. Mote describes education data standards in simplest possible terms as the "rules of the road" for storing information, like student names, so that it can be transported effectively from one place to another. Currently, education is not on par with other industries in this respect.
"In education broadly as an industry, we're about 30-40 years behind where other industries are like healthcare and even railroads and banking," she said. "We don't even, right now, have a common way to articulate a first name and last name and a unique student identifier. So much of the work is around having this common definition of data that we know we're going to need to move."
Project Unicorn does not promote one data standard over another. If fact, it engages all standards in different capacities. According to Mote, this is because there is very little overlap between what use cases each of the different standards pertain to, and says that "if districts and vendors start with their use-case, they can figure out how to move towards that industry-aligned standard."
For example, The Common Education Data Standards (CEDS) outline a common method for storing common data and its attributes. Meanwhile, the Ed-Fi Standards build upon the CEDS, but serves the purpose of allowing different education data systems like SIS systems and assessment software tools to connect to each other. Other standards serve different purposes, like the IMS Learning Tools Interoperability (LTI) which prescribes a way to connect learning applications to learning management systems like gradebooks. In this way, standards do not tend to compete with one another. Rather, the intended use case of a given tool determines which standards it should seek to align to.
The second phase of Project Unicorn, in action now, is centered around helping vendors on the supply side of education technology to develop fully interoperable products. It would seem to be a strong selling point for education technology companies if their tools could integrate with schools' existing systems, so one might not immediately see the need for demand-side advocacy of interoperability.
In reality, Mote says, the issue is much more complicated for a few reasons. For one, some companies benefit from keeping schools in locked systems that are expensive to exit or extract data from. Meanwhile, others have legacy products still in use that cannot readily integrate with modern technology. In addition, schools themselves may not clearly communicate what kinds of data they want to retrieve from systems.
"There's not one person or one entity that's to blame here" she said. Up until now, no other consolidated effort like Project Unicorn existed to promote data interoperability and create a demand for tools that work with each other.
Instead, the burden to interoperate often falls squarely on the shoulders of schools and teachers rather than their tools.
"It's really painful for schools," Mote said. "Teachers are spending their Sundays downloading 15 PDFs and transcribing them into an Excel spreadsheet and then penning that into their gradebook.
"As somebody who is an educator myself and has led and built schools, I want every teacher, every time, to realize that they shouldn't be doing this, so that they can be building relationships with kids. So that they can [focus on] being a great teacher, not also being a data scientist. I think it's incumbent upon us in education to give teachers their Sundays back. For me, that's what can help make the profession more sustainable, can help us move towards data-driven instruction and education, and frankly prioritize kids and put them at the center of their own learning."
Mote says that the most important thing education tech developers and entrepreneurs can do is to listen to their users to be able to fully understand what is required for educators to make the best use of educational data.
Of course, the largest unrealized benefit of interoperability is for students. When teachers have access to all of their students' demographic, assessment, and contextual data in one easy-to-access place, they gain a more complete picture of the child as a whole and can more readily meet that child's unique needs than a teacher who is working with limited or fragmented information.
Mote is a mother of two, and relates, "When I think about my own son Robert, I want his teachers to know not just how he does on a math test or an ELA test, but I want them to know him as a whole child and as a whole person."
In addition, she notes that warning signs of a student at risk, such as an address change from a house to a homeless shelter corresponding with a drop in attendance, could be missed when information is siloed in systems that don't share information with each other.
At the end of the day, interoperability is important because it is critical to student achievement. The opportunity for students to reflect on and engage with their own learning is also lost if students lack access to data about their learning.
Mote says, "A big piece of what I believe is that students should be able to see their own data to know how they're doing and know where they need to go because then they become learning advocates for themselves. When we lack interoperability, we lack equity, we lack student advocacy, and we lack agency for kids."
For the latest news, videos, and podcasts in the Education Technology Industry, be sure to subscribe to our industry publication.
Follow us on social media for the latest updates in B2B!
Twitter – @EdTechMKSL
Facebook – facebook.com/marketscale
LinkedIn – linkedin.com/company/marketscale
Latest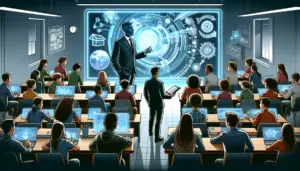 November 27, 2023
In an era where education stands at the crossroads of tradition and innovation, the potential value of thought leadership becomes the guiding star for progress. "Just Thinking" dives into this potential with host Kevin Dougherty and guest Evan Edwards, a Professional Learning Specialist at 806 Technologies who exemplifies the transformative impact of visionary guidance […]
Read More