How Tech Helps Eliminate Campus Parking Challenges for Students
Campus parking has been transformed by technology in recent years, and one of the most important new technologies is parking guidance.
Parking guidance uses sensors to keep track of how many spaces are available in a parking lot or garage and on individual floors and transmits that information to strategically placed signage to help direct drivers to available parking spaces. On a large campus, the technology can help students, faculty, staff, and visitors find parking in a fraction of the time it usually takes.
It's easy to see why parking guidance technology would be popular on higher-ed campuses. It dramatically improves the parking experience, and drivers don't waste time searching for a parking space.
Parking guidance also offers administrative benefits by keeping track of how an institution's parking assets are used. When campus parking administrators have access to real-time data about how their parking facilities are being used, whether they are at full or near-full capacity, and when they tend to be busiest, they can make better decisions about how to manage those parking resources. Better and more comprehensive information will lead to better management decisions.
Intelligent simplicity
As useful as parking guidance is for managing campus parking, many institutions have been deterred by the cost. When it was first introduced, owners had just two options: install sensors over every parking stall at considerable expense or use less expensive technology that was often inaccurate and, as a result, not particularly useful. A complete over-the-space sensor system could cost anywhere from $500 to $750 per space, given infrastructure limitations and signage requirements. So, for a garage with just 500 parking spaces, the cost of installing a reliable guidance system would run around $250,000 and could run as high as $375,000. And that's just the initial installation cost. There may also be maintenance and repair costs to factor in.
Today, colleges and universities can take a more streamlined approach to parking guidance. A simplified parking guidance system that leverages the latest advancements in vision and machine learning-based software technology to track, identify, and count cars can provide accurate guidance at a fraction of the cost. The software can recognize the difference between specific objects—such as cars, people, motorcycles, or scooters—and precisely count only those vehicles that will be parked. Intelligent cameras located at the main entrances and exits of individual parking floors, and even specific zones, monitor incoming and outgoing traffic. The cameras count how many cars enter and exit the structure as well as each individual floor. The cameras also have the ability to identify license plates for permit and visitor visibility and enforcement. That data is compiled and analyzed in real time to determine how many spaces are available and who is in the parking facility as a whole, as well as on each floor.
"As useful as parking guidance is for managing campus parking, many institutions have been deterred by the cost."
The data is then transmitted to LED signs strategically located at the facility's entrance and at the entrance of each floor. When people enter the garage or lot, the entry sign tells them how many parking spaces are available at that moment throughout the facility. As they drive through the garage, signs at each level tell them how many spaces are available on that particular level at that moment.
For larger garages, it may make sense to install additional cameras and signs to serve individual sections of a parking floor to provide more detailed information about how much parking is available in those sections. The technology is also scalable to allow for the strategic individual monitoring of specialty parking spots such as ADA, short-term dropoff, or other assigned spaces.
This simpler approach to parking guidance can provide a much more convenient parking experience at a fraction of the cost of single-space parking guidance. Because owners and operators only need to install a handful of cameras rather than hundreds of sensors, the installation and operational costs are much lower. It can also be centrally connected so campus managers can tell at a moment's notice how many spaces are available on campus at a given time.
The technology also provides security benefits because the cameras can be set to stream continuously. Located at entrances, exits, and throughout parking facilities, cameras can serve as an extra set of eyes and provide video footage of problematic activities.
Like other forms of parking guidance, the systems provide valuable information that can be used to better manage parking resources. The data is collected and transmitted to a cloud-based management portal. Live garage metrics and reporting tools are accessible anytime, anywhere, from a mobile device, tablet, or computer. Administrators can visualize how many vehicles park in their facilities—or throughout campus—every day and know which sections of the facility are most popular and which hours and days are busiest. This information can be used to better manage campus parking.
Guidance in reach
Parking guidance technology is a valuable tool for helping provide a better campus parking experience, while at the same time improving parking operations. For those institutions that have avoided investing in it because of the expense, this simpler, streamlined approach may provide the answer because it is less expensive, more manageable, and provides parkers the information to make smarter parking decisions.
Follow us on social media for the latest updates in B2B!
Twitter – @MarketScale
Facebook – facebook.com/marketscale
LinkedIn – linkedin.com/company/marketscale
Latest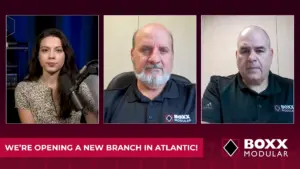 December 4, 2023
In an era where construction innovation is reshaping the industry, modular construction's growth continues to rise. In this episode of Built Modular, Boxx Modular's strategic expansion into Moncton, Atlantic Canada takes center stage. Host Gabrielle Bejarano welcomes Charles Landry and Ray Girouard to explore the implications of this venture. Bejarano, Landry, and Girouard discuss […]
Read More