How to Boost Teacher Morale During COVID-19
Teaching is a challenging enough profession without an unprecedented pandemic making things more difficult for faculty, staff and students alike. How do you boost teacher morale during COVID-19 — a pandemic that's gone on longer than anyone expected? To answer that question, host Shelby Skrhak sat down with Dr. Andra Penny for this episode of the Education Technology Podcast, brought to you by iStation.
Dr. Penny is the principal at Cottonwood Creek Elementary in Coppell, Texas, where she, like many school administrators, is feeling the pressure this unusual school year has imposed. Texas lawmakers have largely left distance learning decisions to individual school districts to decide, and, in turn, many superintendents have allowed parents to choose whether their children attend face-to-face learning or get remote instruction.
That's the case at Dr. Penny's school, where approximately 40% of students are remote learners. Teachers are required to be on campus for in-person class instruction and simultaneous live streaming to at-home students. So, the responsibility and health risks of being in a crowded, albeit distanced, classroom fall to the teachers.
"There's a fear with teachers, because they have families at home, and they are worried about their health," Penny said. "They're worried about their own children and families, so there's a layer of extra concern right now."
When teachers are sick, fellow teachers and administrators must take over and combine classes, because there are very limited substitutes available. "We're juggling," Penny said.
But, when Penny has asked teachers to help cover a sick teacher's class, she's been overwhelmed.
"Just in the past two weeks, I've had to send an email asking teachers, 'If they have an extra 30 minutes, can you help us in this class?'" she said. "And this is the truth – we've had to turn teachers away. We've had that many who showed up to help their peers."
While principals' hands are often tied with regards to mandatory in-class instruction, principals can support teachers by giving them time, so to speak. Administrators and staff can take over recess or lunch duty so that teachers can have an uninterrupted off-period.
On this episode, Penny shared several more actionable tips for boosting teacher morale and helping principals cope with this challenging time.
Latest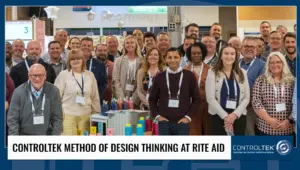 December 4, 2023
The video showcases a dynamic workshop titled "CONTROLTEK Method of Design Thinking at Rite Aid," highlighting the collaborative and innovative efforts between CONTROLTEK and Rite Aid teams. It features scenes of brainstorming, prototype development, and group discussions, emphasizing CONTROLTEK's customer-centric approach to problem-solving and innovation in retail solutions. The workshop demonstrates how cross-functional teams […]
Read More